Bring nature inside with our Richard Osbourne murals

Published on , in News.
It's all about bringing the outdoors in! Wellness and biophilic design are essential components in interior design today. We're familiar with the research that shows we all subconsciously seek out connections with nature. By introducing these elements into design, our health and wellbeing are improved.
Super high-res and detailed, these panoramic images are an easy and effective way to bring greenery, woodlands and peaceful scenes into an interior space. Here we show different takes on colour, perspective and design. Let's take a look...
Look up! Fresh greens and cornflower blues shine through in our new Springtime mural. Dwarfed by towering leafy trees, step into the luscious forest of Springtime (this mural can be scaled up to 3 x 4m).
Here's the misty morning of Bracken Wood. In autumnal tones of burnt umber, caramel and sage you can practically feel the crunch of leaves underfoot. A super high res panorama, Bracken Wood can be scaled up to 3 x 14m.
Scramble over the rocky rapids and be transported into the lush and wild landscape of our Waterfall photographic mural. Available as wallcovering and window film, Waterfall can be scaled up to 3 x 6.25m.
T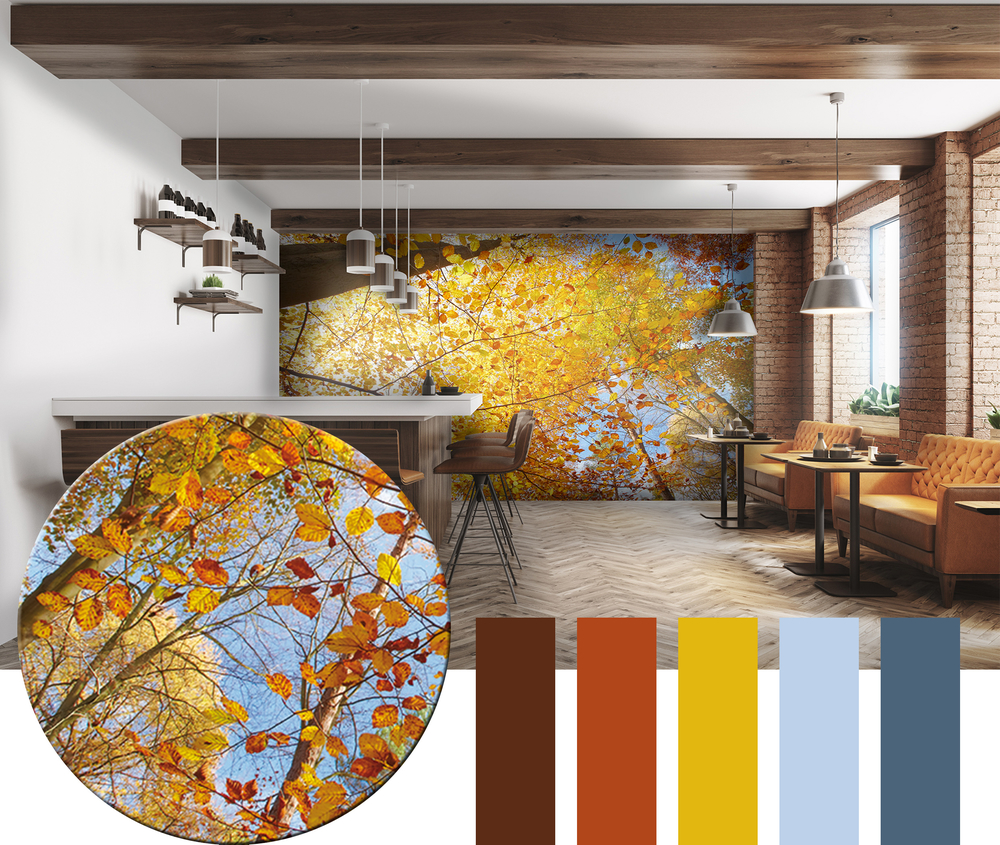 NEW Richard Osbourne photographic mural - AUTUMN LEAVES
Who says nature-inspired design needs to be restricted to green? In cheerful shades of sunny yellow and sky blue, Autumn Leaves is a colourful option for bringing nature into the interior. Autumn Leaves can be scaled up to 3 x 4.5m.
Plunge into the serene landscape of our new Lake design. A calming photographic mural, Lake can be scaled up to 3 x 6m.
All designs can be printed as window graphic or wallcovering. We can also print onto our Zintra acoustic panels. We can resize and print Richard's images to fit your space. Turn round is fast and there's no minimum order. And this is just a small selection - discover all of our Richard Osbourne designs here.

Join the conversation and let us know your thoughts by following us on Twitter & Instagram (@TekturaTalk) and Facebook (@TekturaWallcoverings).
For more case studies, blogs and trend reports - click here.
Or click here to sign up to our newsletter to keep up to date with what's going on and our latest launches.