CASE STUDY: Pearl Building, Newcastle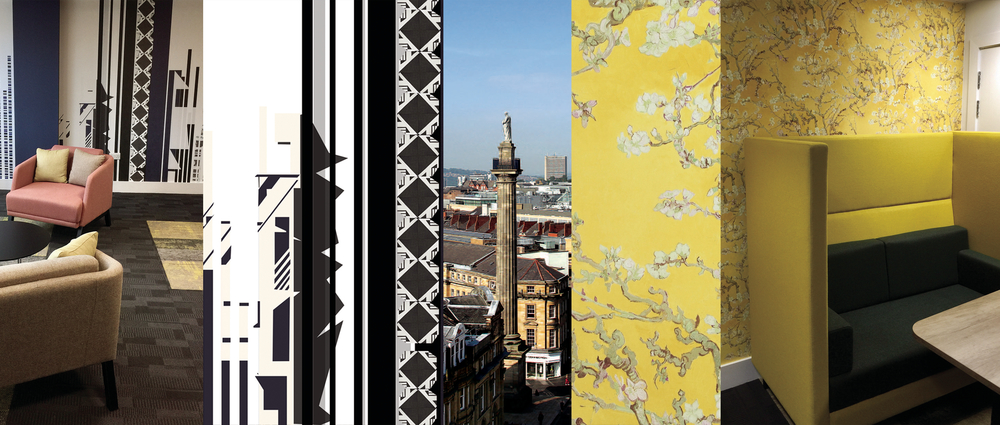 Published on , in News.
Let's travel up north! Delivering offices for entrepreneurial businesses, the Pearl Building is a rejuvenated Newcastle city centre icon. With workplace design a hot topic when talking about employee satisfaction, productivity and wellbeing, Design North Interiors were briefed to create a vibrant breakout space to support the existing serviced offices ...And they used a wide selection of our wallcoverings to help achieve this - let's take a look: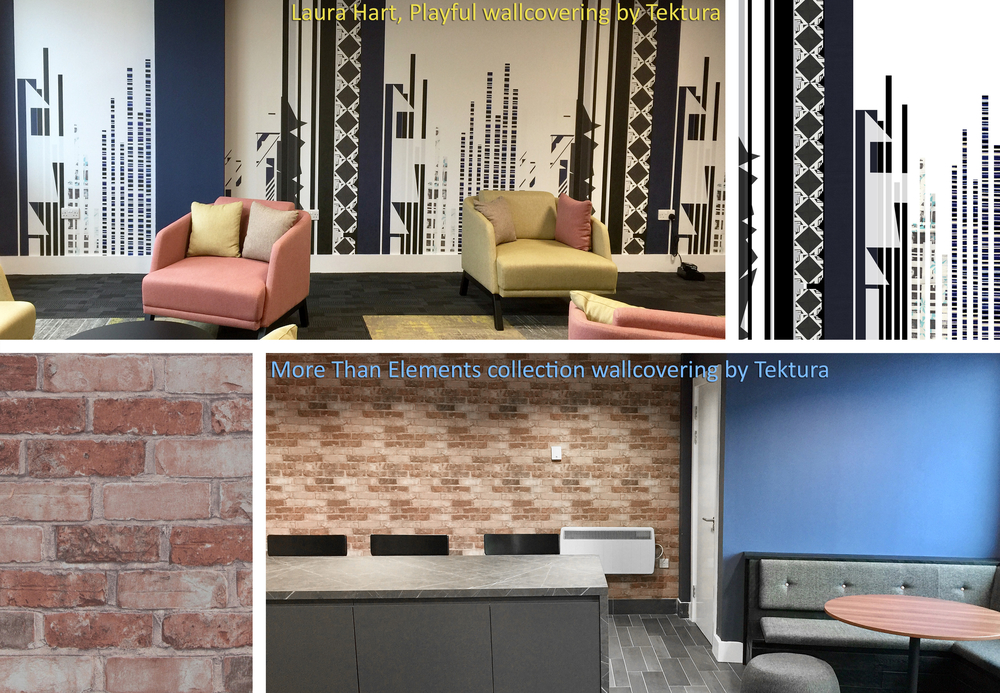 Bold and bright, Design North Interiors used a variety of our wallcoverings including our Laura Hart Playful design (pictured top). Used as a feature wall, the eye-catching geometric design is a quirky way to bring the surrounding city skyline into the interior. Paired with inviting armchairs, Design North also employed a clever use of carpet design to help create zoned seating areas.
Spot the difference! No, that's not exposed brick, it's our realistic wallcovering alternative. We love the contrast of the red brick design from our More Than Elements wallcovering collection with the zingy blue wall. Click here to see more brick, wood and stone effects from the collection.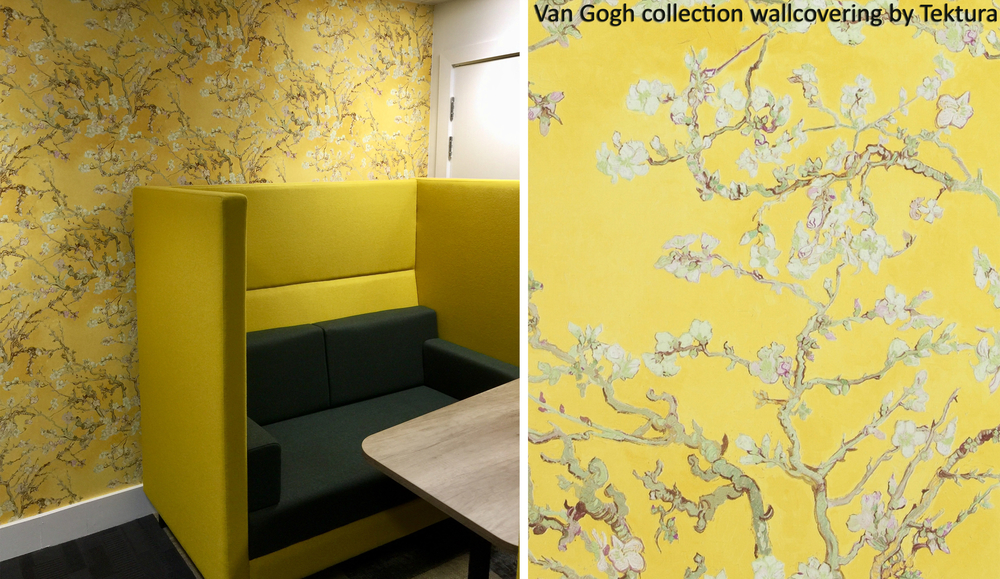 A statement in yellow! Research has shown that yellow is perceived as an optimistic and energetic colour, it can therefore be a great colour to use in work environments as it promotes innovation and creativity. Our Van Gogh collection wallcovering pictured here is an eye catching accompaniment to the vibrant yet practical noise-cancelling furniture.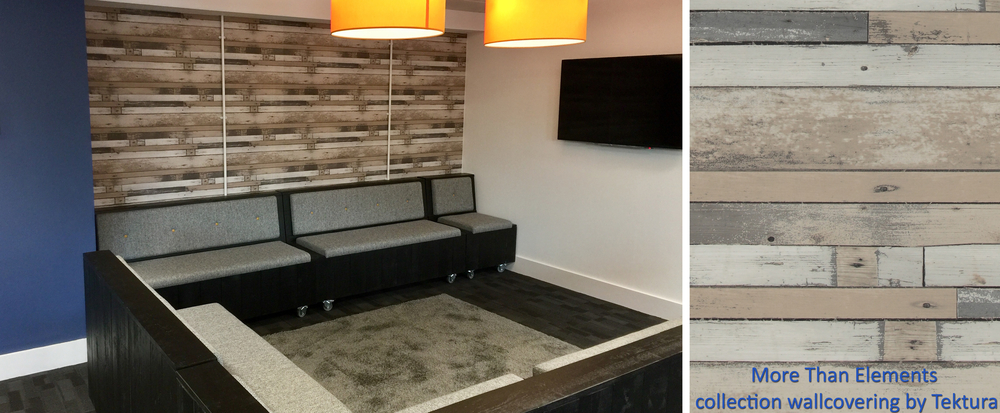 Using an industrial aesthetic is a great way to bring a cool urban edge to an office interior. This reclaimed wood effect wallcovering (from our More Than Elements collection) makes the perfect practical alternative to the real thing, and still creates a vibrant statement wall for the breakout area.
Two shades of brick (again from our More Than Elements wallcovering collection) feature below in this industrial chic meeting area. Paired with exposed bulb lighting, it continues the urban vibe across the space of the office.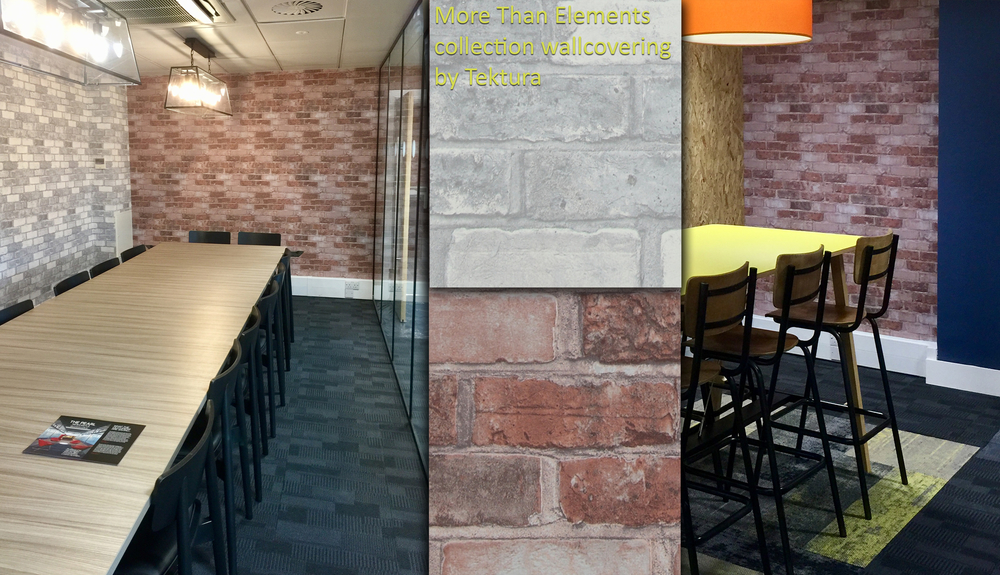 Pictured: Laura Hart, Playful wallcovering at The Pearl Building, Newcastle. Interiors by Design North
With employees spending more and more time at the office, it's crucial to create a space that's functional, visually appealing, comfortable, and inviting — all of which promote productivity and efficiency. Also for visitors or customers, office design sets the tone for a business and tells a story about the brand, professionalism, and success.
Join the conversation and let us know your thoughts by following us on Twitter & Instagram (@TekturaTalk) and Facebook (@TekturaWallcoverings).
For more case studies, blogs and trend reports - click here.
Or click here to sign up to our newsletter to keep up to date with what's going on and our latest launches.