Health care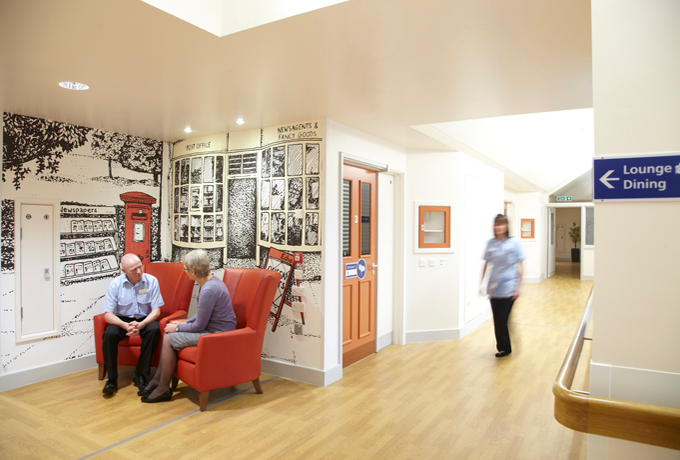 Published on , in News.
Tektura are members of the SBID Health Care Council and we're here to help anyone seeking advice and design guidance in this market sector. The council consists of experts across all aspects of healthcare design, including Stirling University and leading suppliers of lighting, flooring, fabrics, paint and furniture.


When choosing a wallcovering you may find the following helpful.
DURABILITY and CLEANABILITY. Wherever possible, choose a fabric-backed vinyl. They're washable, scrubbable and contain antimicrobials. We offer a small range of super-stain resistant product too. Our fabric-backed vinyl wallcoverings are impact resistant and conform to fire regulations so can be used in any area. High circulation areas, stairwells, corridors are all prone to more knocks and scrapes. Fabric-backed vinyls ensure longevity and offer better overall value. The texture and inks used will determine whether a wallcovering is rated wipeable, washable or scrubbable. Fabric-backed vinyls with metallic ink prints are washable; vinyls without metallic inks are scrubbable. Avoid metallic effects in high traffic areas as the inks used can scratch more easily. Avoid abrasive, bleach or solvent based cleaners as these may affect the printed surface of the wallcovering. For areas requiring extra hygiene or use of stronger cleaning agents, consider our Extra Stain Resistant range. Non-metallic contract vinyl wallcoverings can be steam-cleaned.

COLOUR



Warm colours - peach, orange, red and yellow are stimulating. They will 'warm up' a colder or north facing room, and help make a large space feel cosier. There is evidence that yellow can aid cognition and memory while orange/red can stimulate appetite. Red and bright pink if over-used can lead to agitation.
Cooler colours - greens, blues and teals are calming. They are reminiscence of water and foliage both of which can relieve stress. They will make a small area feel more spacious, and a hot room / south facing room feel cooler. There is evidence to suggest that the ability to see blues/greens diminishes more rapidly with age than the ability to see red-based colours.

LRV's

To ensure the wall/floor/doorway remain distinct from one another and therefore visible, a minimum difference of 30 LRV points between surfaces is recommended. Conversely, to disguise a doorway choose a wallcovering with similar LRV and the door will stay relatively invisible.

PATTERN
For most healthcare environments soft, tonal organic prints are the most appropriate choice. Traditional damasks, floral or foliage-inspired prints help create a homely non-institutional interior. Classic trellis effects, contemporary geometrics and abstract patterns offer more choice but be mindful of strong aggressive pattern which can create visual disturbance.

TEXTURE



Vinyl wallcoverings offer a wide range of natural tactile textures such as wood, stone or fabric effects. These act as a neutral backdrop for signage, lighting and artwork without adding clutter. For someone with visual impairment, a deep texture can help with wayfinding.

DEMENTIA

WHAT TO AVOID
Take caution when choosing bold geometrics, stripes and spots. These can create visual distortion and dizziness. Shiny surfaces create glare. Shapes or busy/large patterns may be misconstrued and confusing. Dark patterns on a light background (or vice versa) can be misinterpreted as holes or faces. Murals incorporating paths may be misleading.

DEMENTIA FRIENDLY
Consider using fluid patterns, soft shapes and pattern. Patterns should be stylised and era-relevant. Keep colours within a pattern tonal. Textures add interest.

AUTISM



With regard to wallcovering, creating an autism-friendly environment is about colour. Choose 'low stimulation' colours such as pale pink, grey, blue and green. Cream should be used instead of white or yellow. Limit colours to one per area/room to help avoid over stimulation. Avoid pattern and shiny surfaces.

MURALS

Murals are an easy way of creating an uplifting and engaging interior. Careful planning re scale, content and colour can completely transform a space. Ensure the mural is relevant to the setting. They can be realistic or stylised, quirky, hand drawn or mimic a painting. They can fill an entire wall from floor to ceiling or be framed as a large artwork. Any link to an outdoor scene can be uplifting and provide a connection with nature - particularly if there is no view onto a real garden. Murals of green trees and rural landscapes create a connection with nature, reduce stress and aid recovery. Likewise views of lakes, rivers and sea can soothe. Any view creates a positive distraction, is engaging and can evoke memories of familiar places.

Long corridors and particularly end of corridors are areas that benefit from being 'broken up' with colour and pattern. This helps create a homely atmosphere, and can aid wayfinding.



ART & GRAPHICS
Here's a chance to add colour, scale and a story to public areas, waiting rooms and corridors. Playful scenes for paediatrics, photographic or illustrative murals for corridors, reception and dining areas add interest and engage patients, residents and visitors alike. Many clients choose from our own library of designs, and we can also print customers' own artwork.