Meet the Designer: Jonnie Lawes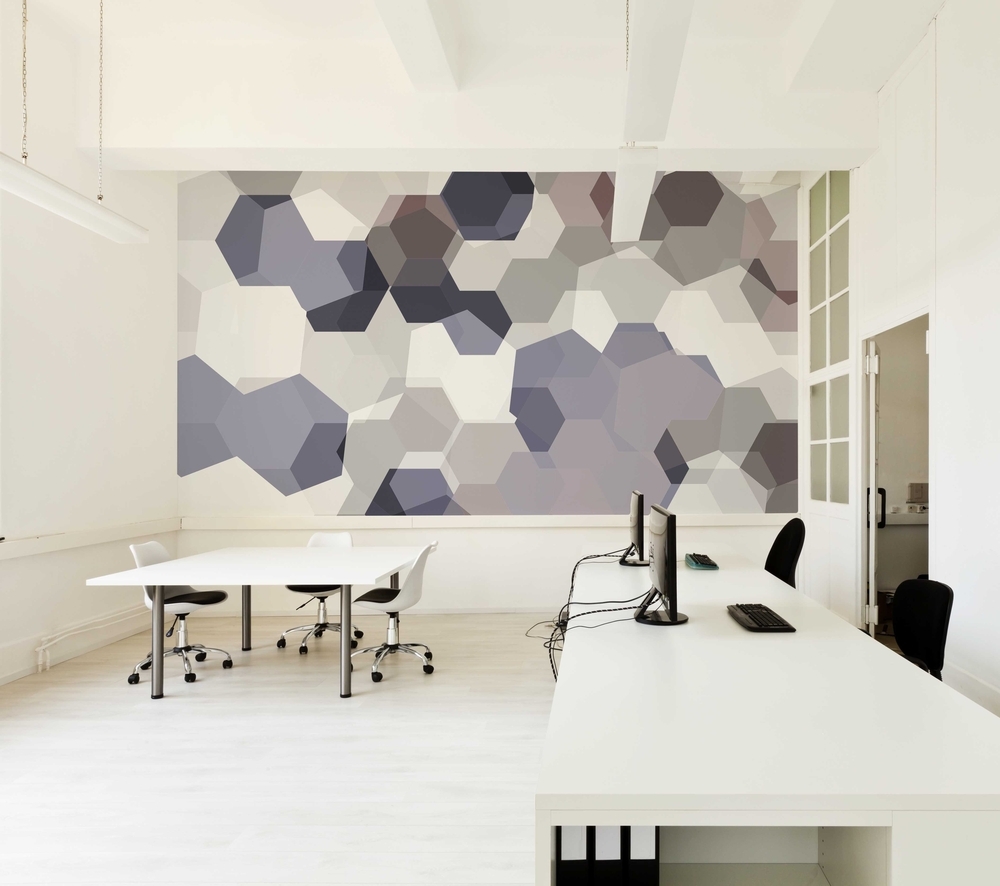 Published on , in News.
It's the second instalment of Meet the Designer and we've been chatting to Jonnie Lawes, the man behind our ever popular geometric bespoke designs.

Jonnie at work at his home in Berlin
Hi Jonnie!
You're the creator of our best-selling bespoke wallcovering designs. How do you go about developing your new patterns?
I base all my work on things that I like and am interested in. So there isn't really any specific formula to follow. I'm out and about, see something, get inspired and get creating!
Which of your designs is your favourite and why?
My personal favourite is Pinnacle Green. It's just so simple, yet so effective. If I'm honest, I did it one morning in my bed. It only took 10 minutes but I knew right away it was perfect. Sometimes things just happen like that.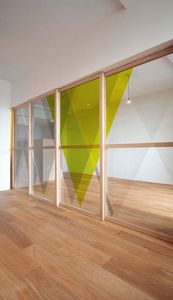 Pinnacle Green – printed on clear window film
Who influences your work? Do you have a favourite artist?
I like the work of Josef Albers. His colour studies are really inspiring. Anything Bauhaus related usually gets me excited too. I also love the work of Ronan and Erwan Bouroullec. I recently went to an exhibition of theirs in Paris and came away full of ideas.

Homage to a Square (the complete series), by Josef Albers

Clouds by Ronan and Erwan Bouroullec
You live in colourful Berlin – do you think this has a big impact on your work?
Being in Berlin does inspire me. There is a real sense of freedom about this place and so there's always great things on show. But I also get really inspired when I'm travelling and try to do that as much as I possibly can. It makes me really happy.
Do you have a favourite place to visit? Or somewhere you would love to go to?
I love Scandinavia. Everything about it appeals to me. Like I said before, I like to travel and try to visit the North as much as possible. I first visited Copenhagen 2 years ago and have been in love since. I will live there one day, definitely. As for where I'd love to go, my next stop is Helsinki. It was Design Capital of the year in 2012 and I've heard so many good things about it.
What is your work space like? Do you have a studio or work at home?
I mainly work at home. That includes my desk, the kitchen, anywhere really. But sometimes it is nice to take my work outside. It can offer up a different experience which can be beneficial.
If you weren't a designer, what career would you most like to try your hand at.
If I wasn't a designer I'd be a hairdresser! It's another job involving creativity and something I think I could be good at. Your hairstyle is really important – it's the 'outfit' you wear everyday.
We love your new designs! Tell us a bit about where your ideas came from…
Polygon came about from my love of tessellating shapes. I really do love it when things fit together perfectly. However, the design became a bit boring and I wanted to do something new. So once again I started to play around with overlapping shapes, creating a completely different and much more exciting structure. I wanted to create some movement within the design, like cells forming and spreading from left to right.
Diamond came about from some visuals I saw while at a concert. There were loads of shapes all building up upon one another and it got me really inspired. I was looking more at the visuals than concentrating on the music! I had to get my phone out straight away and make a mental note so I didn't forget. Then a few days later I just began experimenting on illustrator, playing with shapes and colour and eventually came up with what I wanted.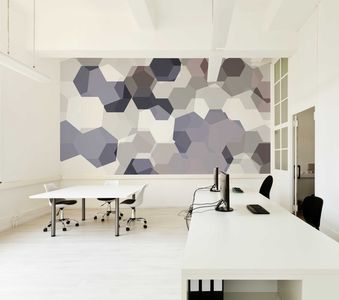 Polygon – one of Jonnie's brand new designs

Diamond – one of Jonnie's brand new designs
So what's next for you and your designs?
What's next for me? More travelling, more inspiration, more creating!!

White

Shards
All of our bespoke designs are available as wallcoverings, or window graphics. We can tweak colours to match your chosen theme, and rescale most designs to fit any space. Search bespoke now.