NEW LAUNCHES Autumn 2019

Published on , in News.
Natural surfaces, textured woods, modern prints and classic linens... Discover our 13 brand new designs below: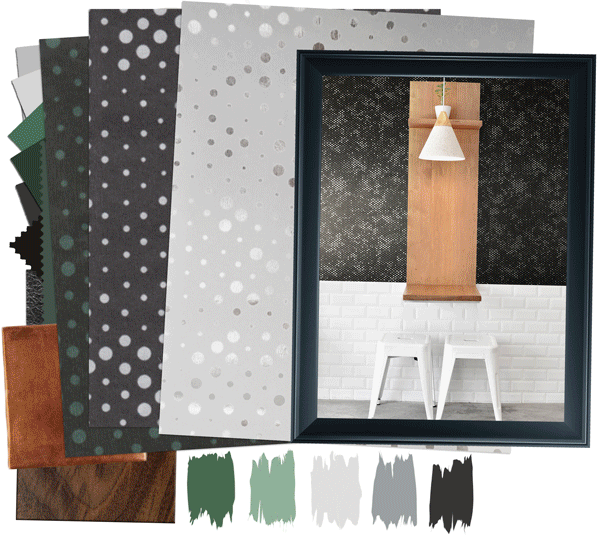 Do you recall our two design themes for this year - the Inner Artist and the Futurist? Our new launches take us onto the next step... ready to see how the story evolves?
Inner Artist:
There are no rules as self-expression takes the lead. Focussed on authenticity, craftsmanship and seeing the mark of the maker, the Inner Artist is all about quality and considered design.
Continuing the theme, our latest intros now combine natural elements with metallic highlights. Deep blues, teals and aquas bring out a retro-glam edge to the classic artisan look.
Futurist:
As social media becomes an integral part of our everyday lives, trends and fashions can become a global phenomena overnight. Clean and crisp our Futurist theme is all about simplicity, pared-down pattern, smooth surfaces, urban living and smart technology.
Keeping with this modern and graphic vibe, our new designs introduce vibrant pinks to contrast the minimalist black and white. Line drawing, bold architecture, surrealism and *that* Zara dress - it's all about the contemporary "it" factor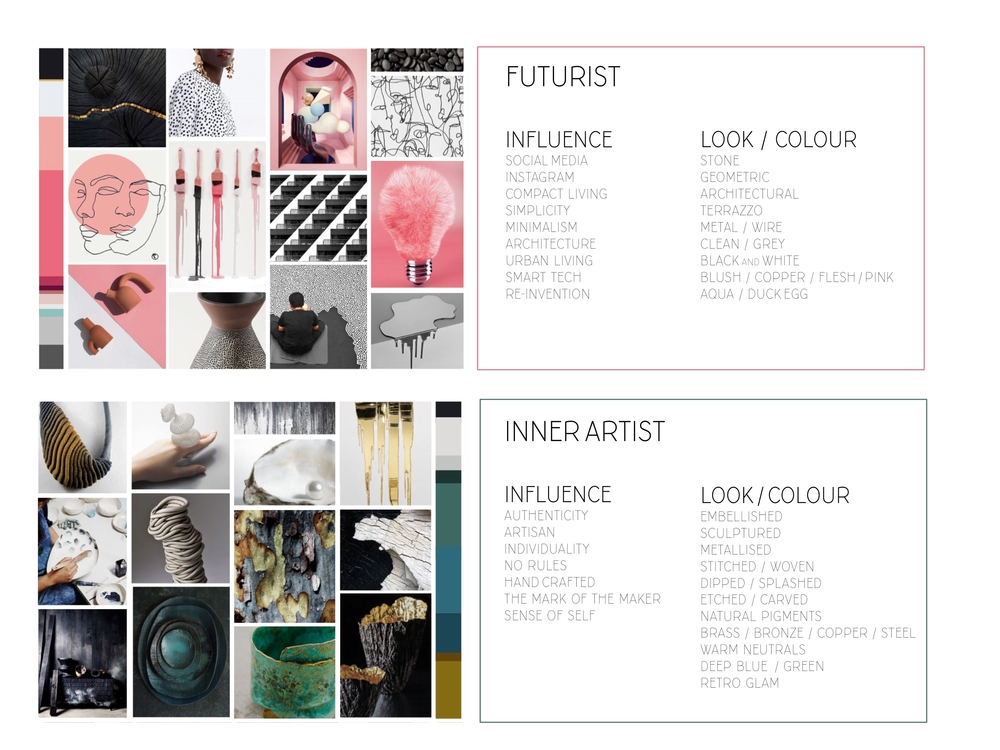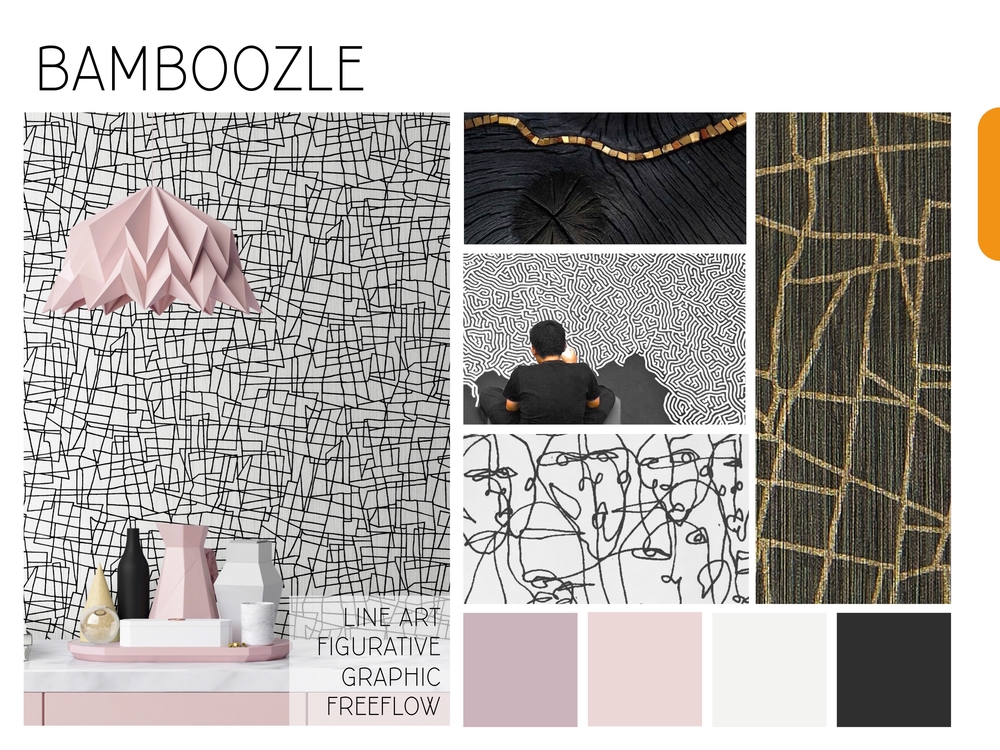 Influenced by line drawings, Bamboozle is a statement graphic print that's perfect for creating a statement modern interior. Click here to see all 9 colourways.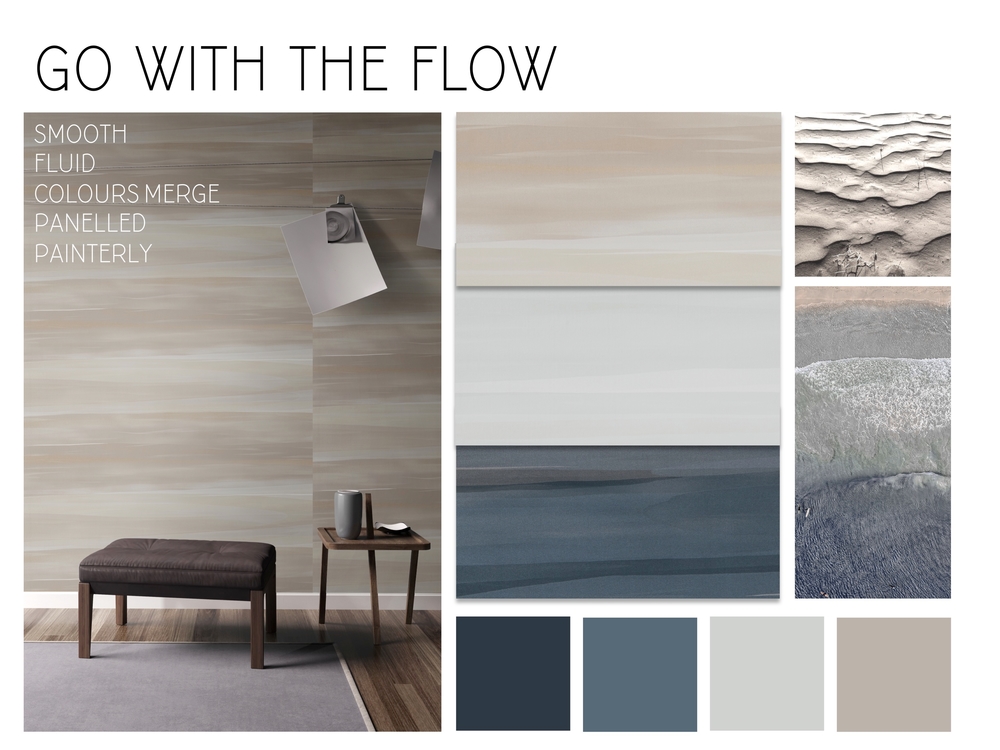 Can you hear the ocean waves? A painterly, watercolour inspired print, this panelled design transports us to the shores of serene beachscapes. Click here to see all 6 colourways of Go With the Flow.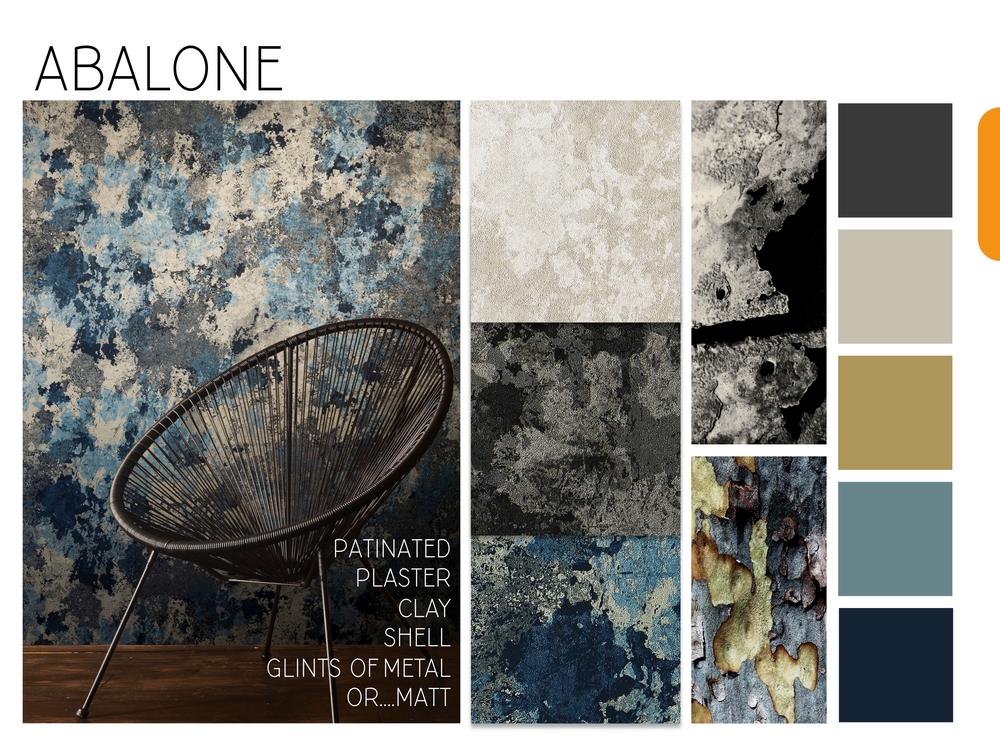 From sunbleached plaster to deepest black shale! Go dark and moody with patinated surfaces or keep it simple with fresh and matt colourways. Inspired by clay, shell and plaster surfaces, take a peek at all 6 colourways of new design Abalone here.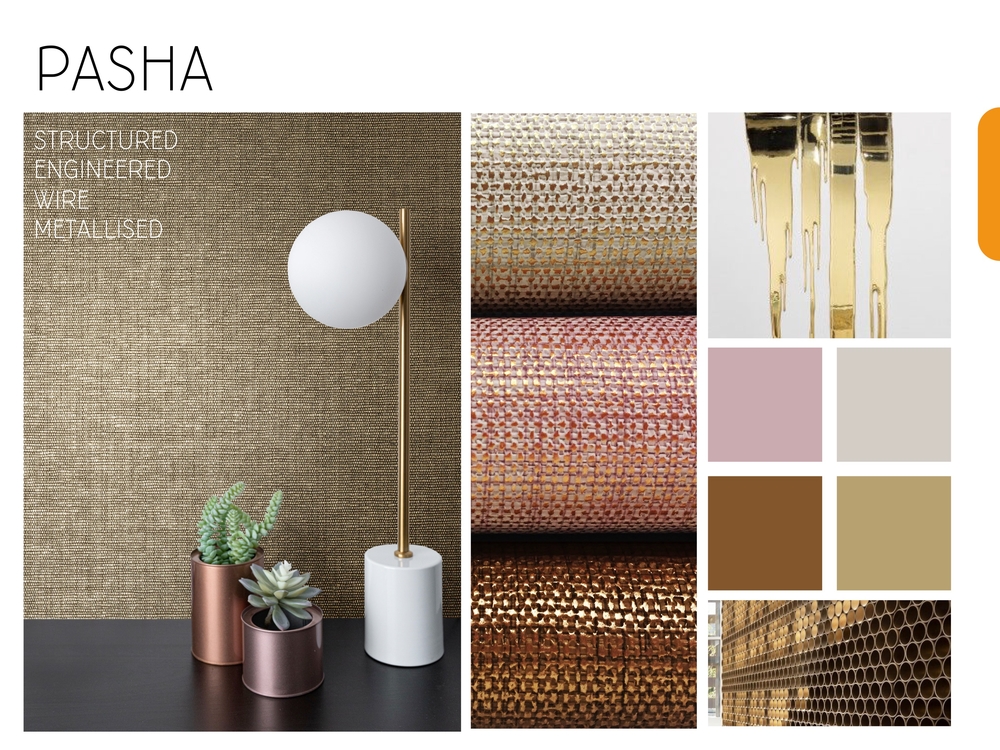 A design that oozes luxury! An iridescent weave, Pasha is all about the shimmer and sheen... See all 18 colourways here.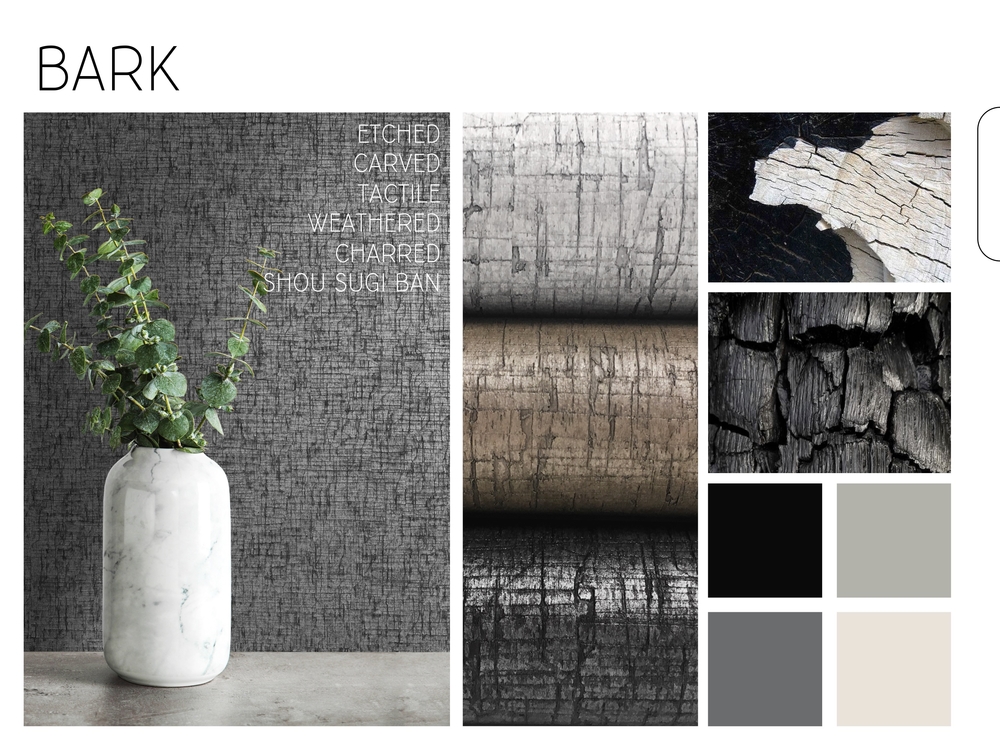 Inspired by the Japanese wood charring technique of Shou-Sugi-Ban, Bark has a deeply textured and tactile surface. See all 12 colourways here.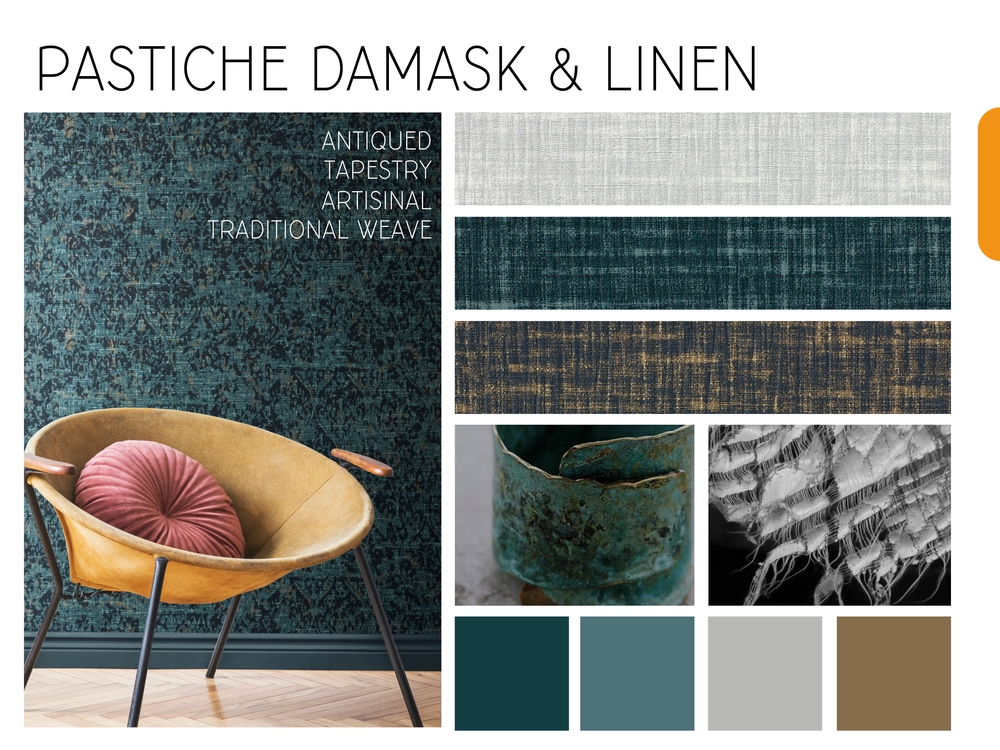 A classic damask design inspired by authentic artisanal tapestries, Pastiche Damask is accompanied by a coordinating linen that comes in 24 colours. See more of Pastiche Damask here or Pastiche Linen here.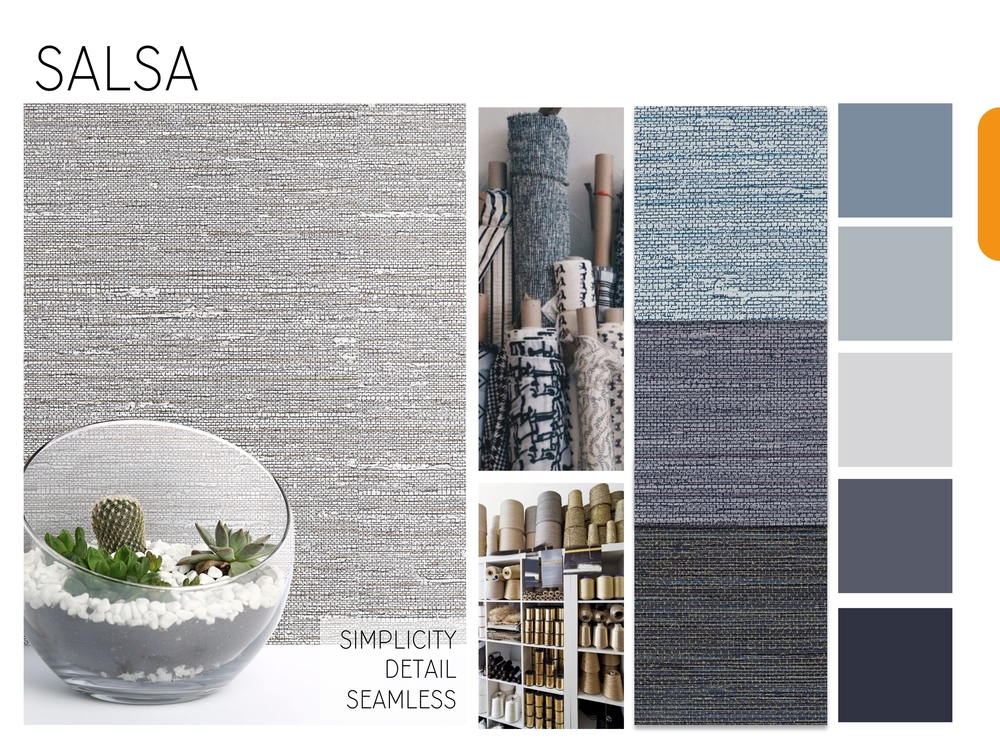 It's all about the simplicity with Salsa. A timeless weave, there are 19 colourways to choose from - pick your favourite here.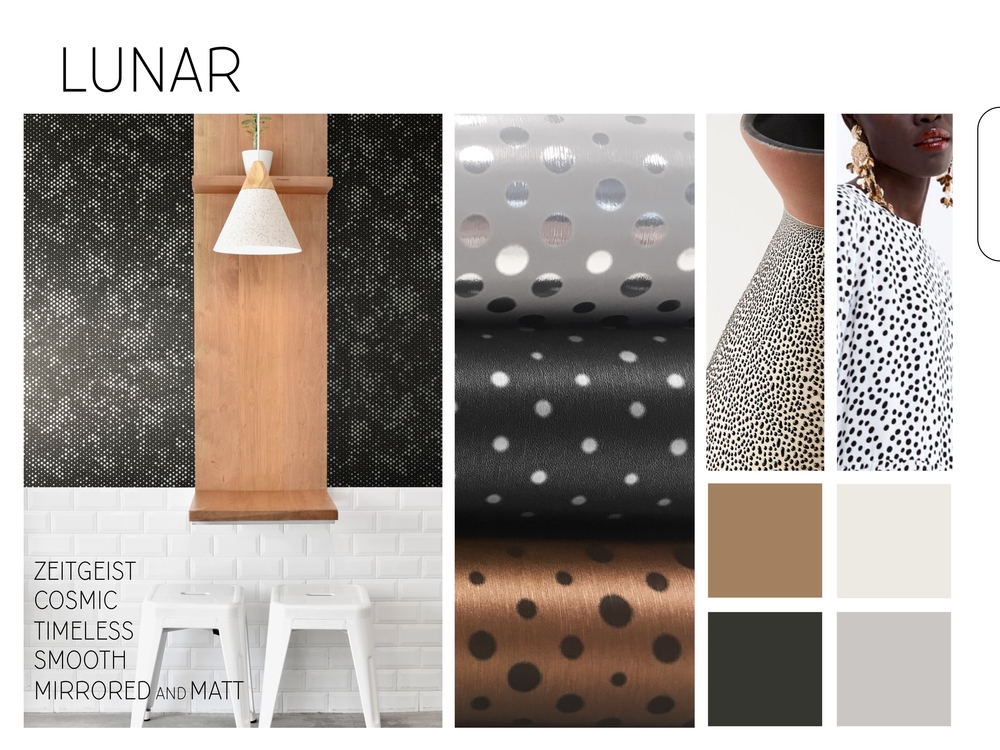 Sparkle in spots! Designed by Clodagh Design, Lunar is an intergalactic celebration of polka-dots. With both matt and mirrored surfaces to choose from, click here to discover all 8 colourways.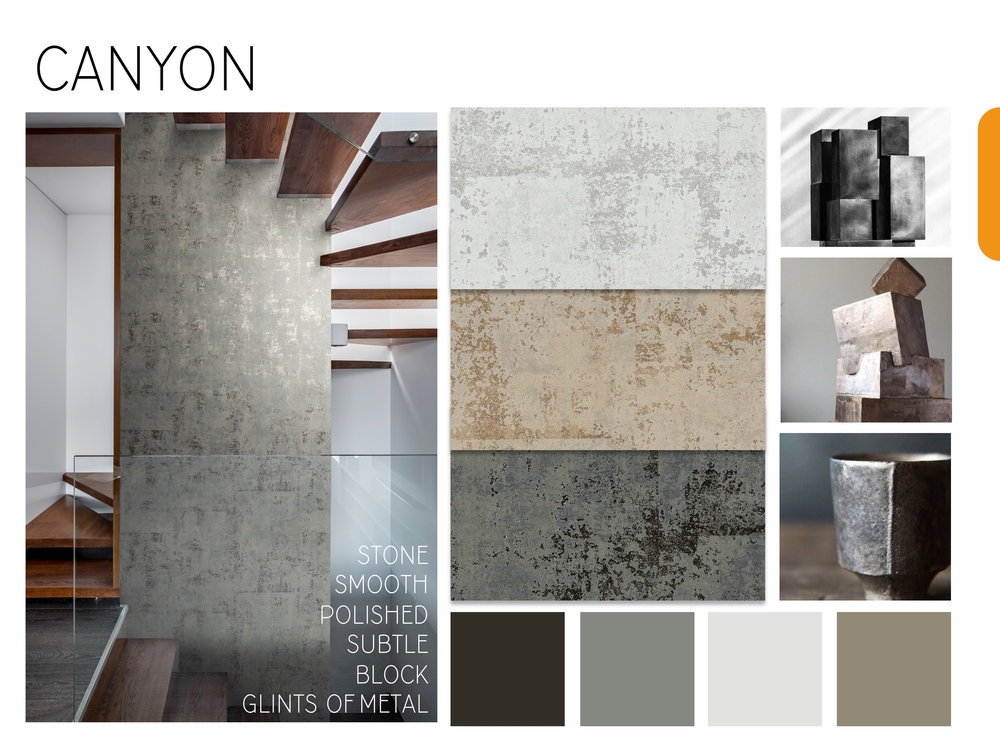 Less shabby, more chic! A smooth stone surface with metallic detail, Canyon has a subtle block effect that's perfect for elevating an industrial look scheme. See all 6 colourways here.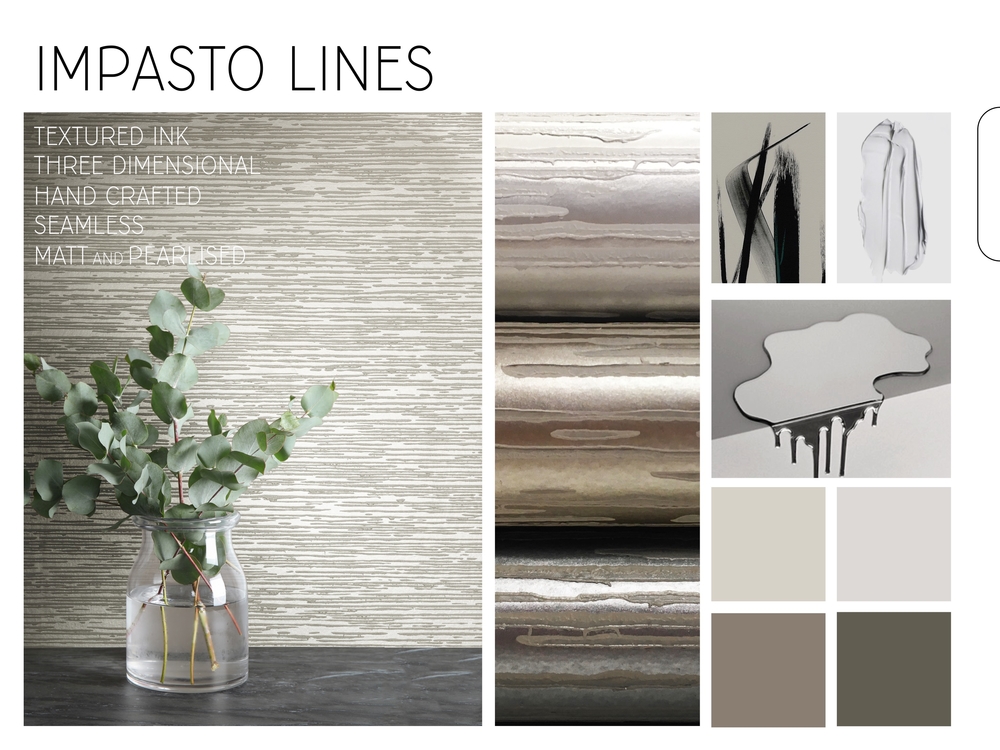 Our new sculptured ink designs have reinvented authentic and traditional printing techniques to create three-dimensional paint effect wallcoverings. Impasto Lines and Impasto Wood have been inspired by the impasto paint techniques, where paint is applied on a surface in very thick layers, usually thick enough that the brush or painting-knife strokes are visible. Bringing together artisan handcrafting techniques, traditional printing and modern laser-precise engraving methods, our Impasto wallcoverings are able to provide an authentic look, but also be durable and seamless.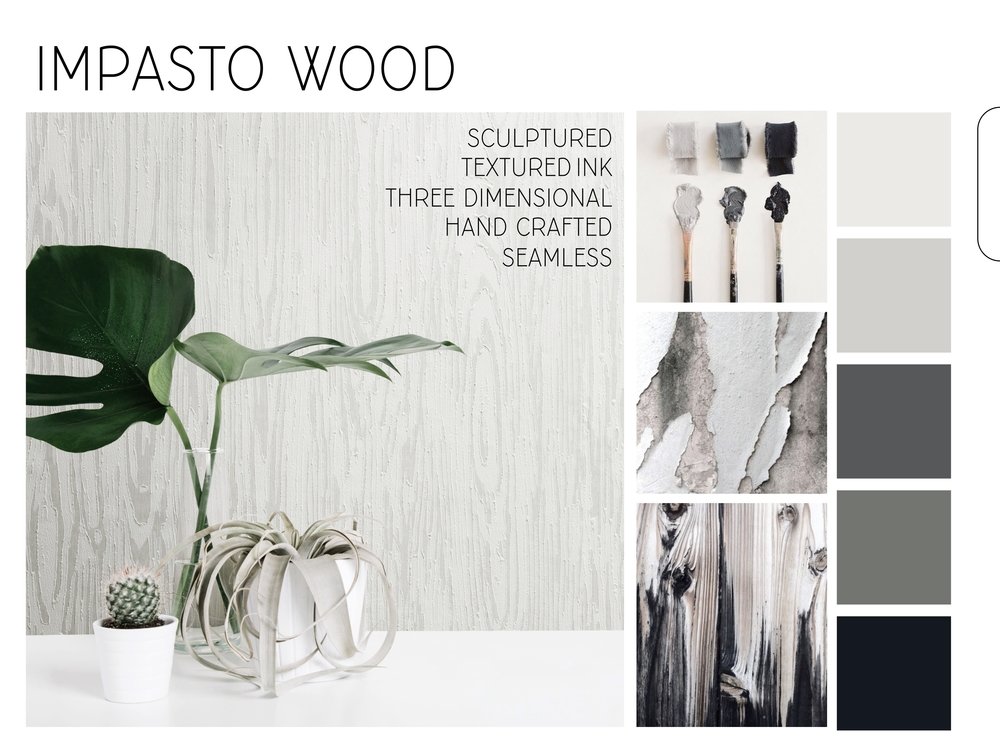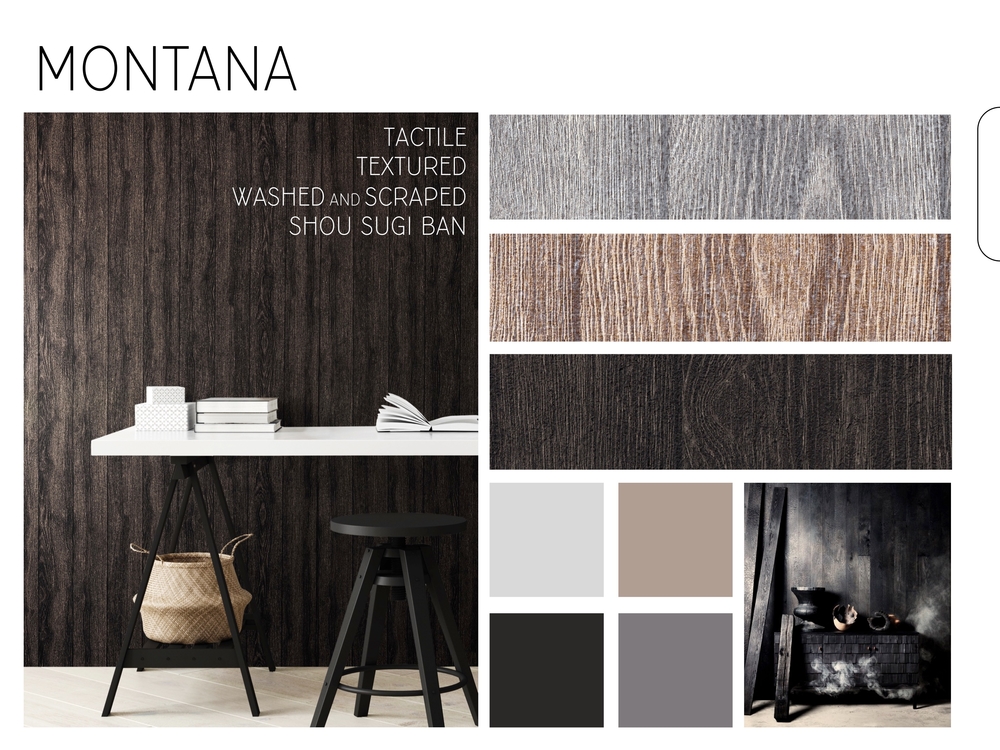 All about the texture! Realistic wooden planks, Montana is a tactile design that comes in 13 colourways. From warm oaks and pines, to ashy greys and even charred black (inspired by the Japanese wood-burning technique of Shou-Sugi-Ban) - See them all here.
To see all our latest designs and explore our current library follow the link here.
Join the conversation and let us know your thoughts by following us on Twitter & Instagram (@TekturaTalk) and Facebook (@TekturaWallcoverings).
For case studies, blogs and trend reports - click here.
Or click here to sign up to our newsletter to keep up to date with what's going on and our latest launches.