NEW LAUNCHES: January 2020

Published on , in News.
New designs are here! We're welcoming over 20 designs to our wallcovering library. From charred wood effects, to textured metallics and authentic weaves, scroll on to discover them all...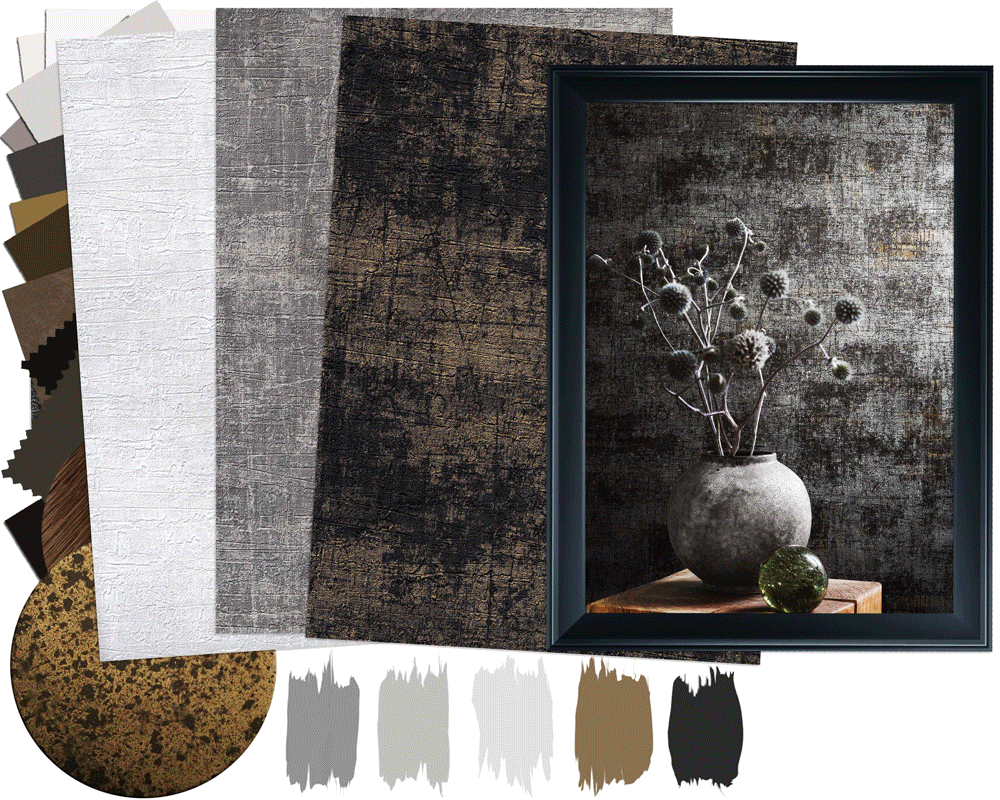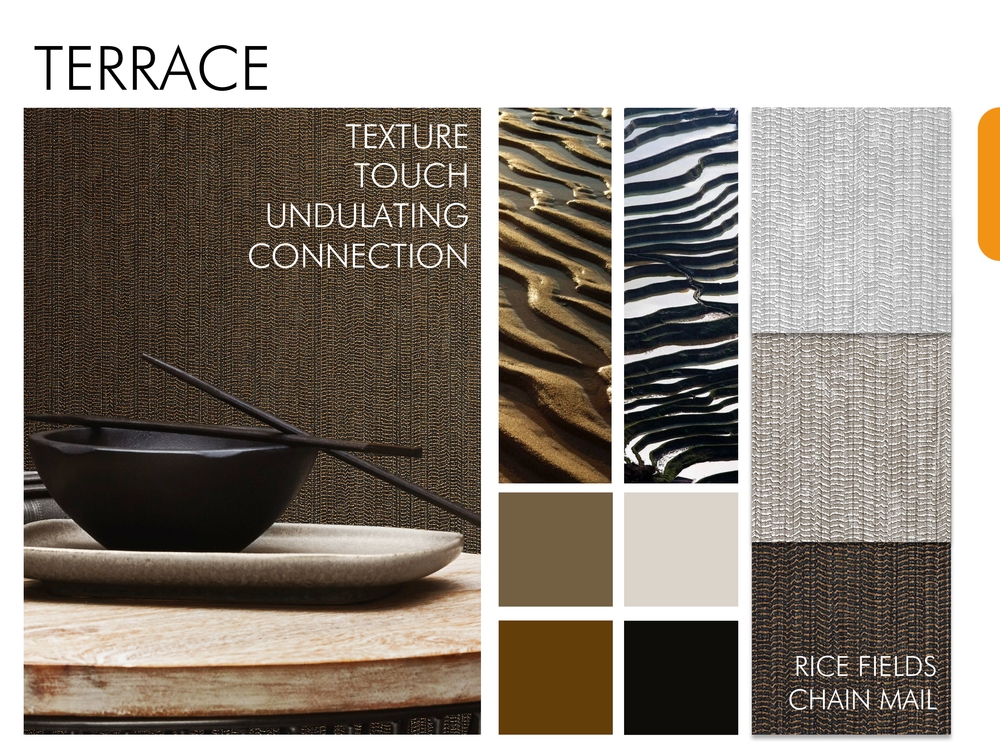 Simple, small scale and detailed. Terrace is inspired by the rice fields found in South East Asia. A textured and tactile design, the distinctive grooved pattern is reminiscent of paddy fields carved from hillsides. With flashes of gold, copper and metallic highlights, this design comes in 18 colourways - see them all here.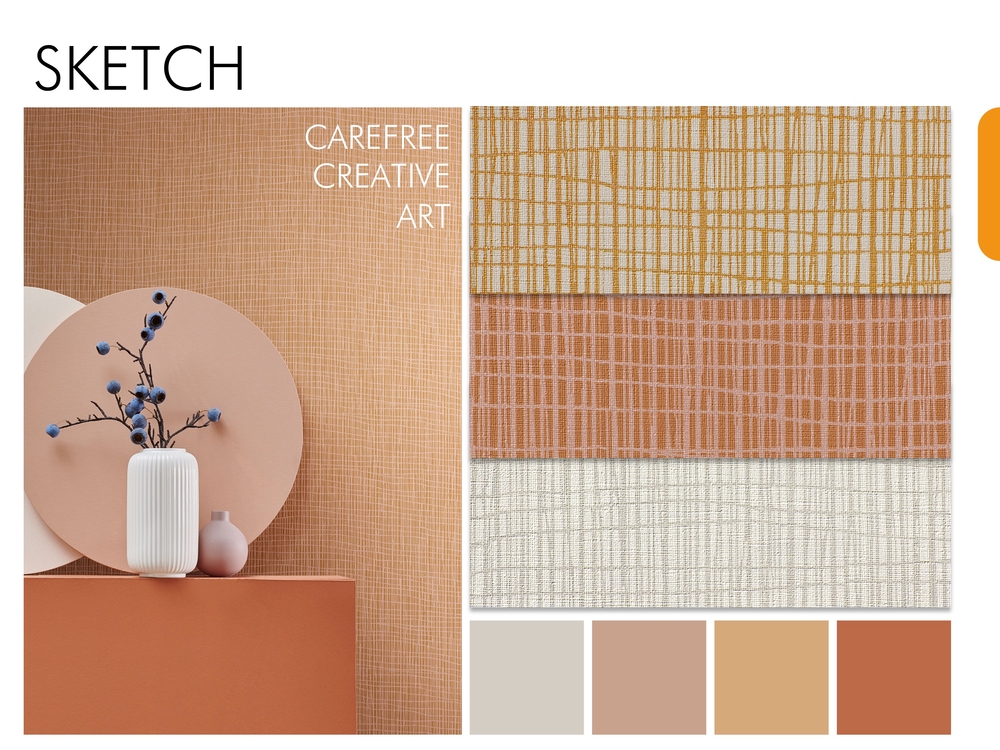 Taking inspiration from the 1970s, Sketch is a fun and quirky retro design. With a carefree and creative vibe, Sketch comes in 17 colourways - from bold and bright to understated and timeless, discover them all here.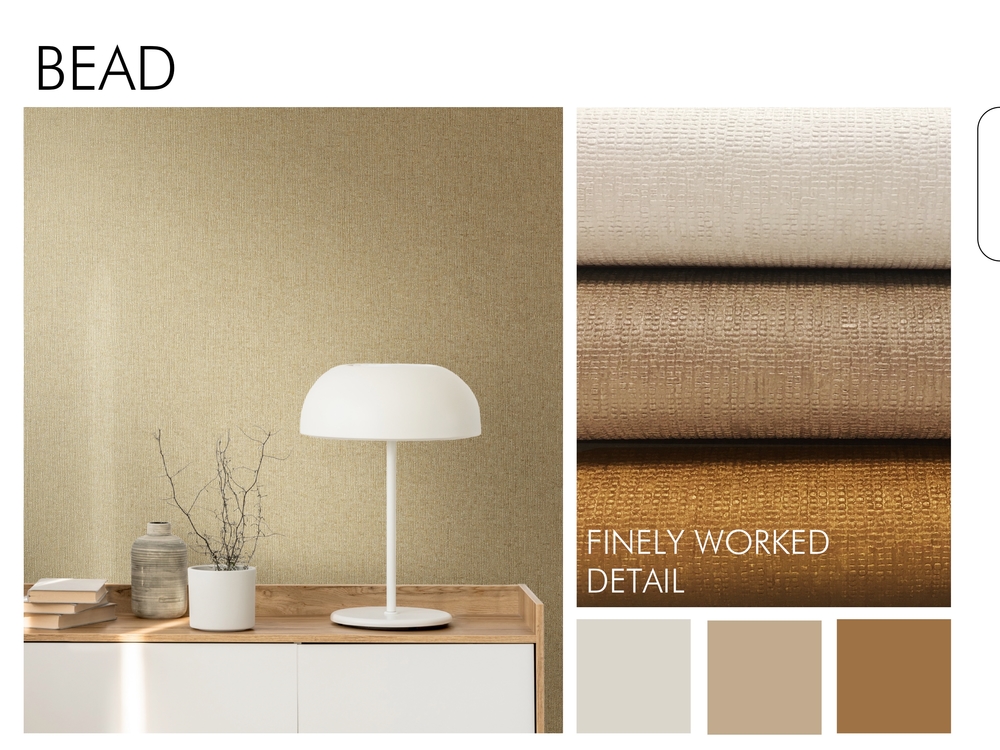 All about the simplicity! Bead combines a minimalist texture with intricate detail. Navy blue, desert sand or jade green - see all 15 colourways here.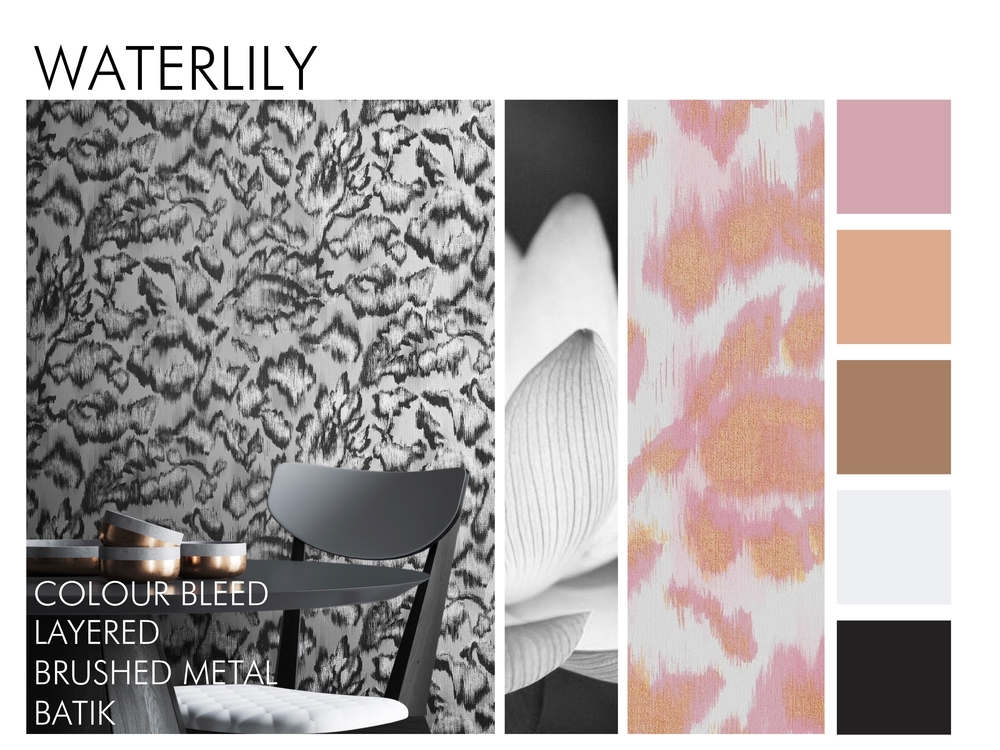 A painterly abstract print, our new Waterlily wallcovering combines floral patterns, watercolour and splashes of metallic. From delicate neutrals to the bold and dramatic, discover all 8 colourways here.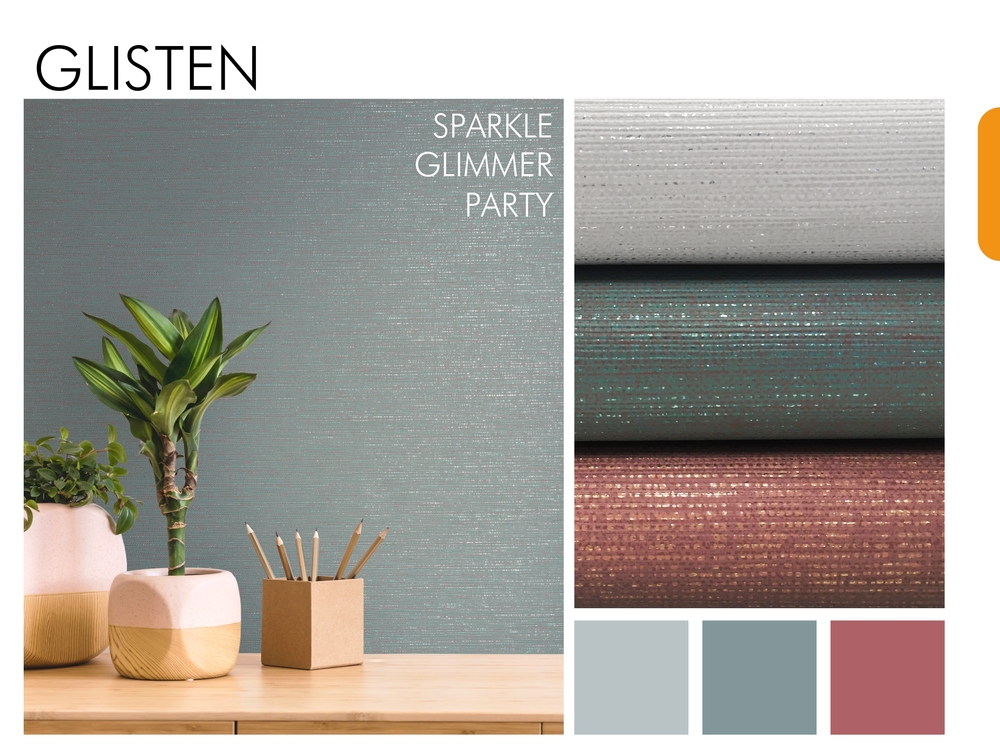 Get your sparkle on! With a mylar base that catches all the shine, our party-piece weave Glisten comes not only in vivid intense colours, but also soothing sophisticated creams, golds and silvers. Take a peek at all 16 colourways here.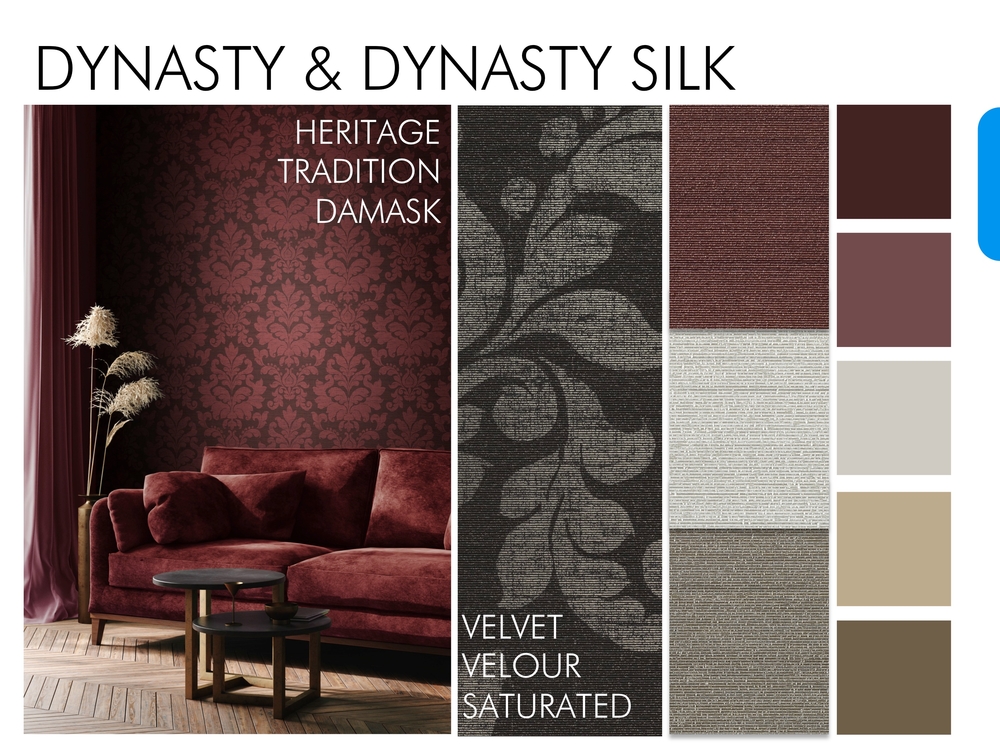 Classic design meets modern luxury! This rich damask brocade is all about heritage. With sumptuous jewel tones or timeless neutrals, Dynasty comes in 10 colourways and also coordinates with Dynasty Silk. See more here.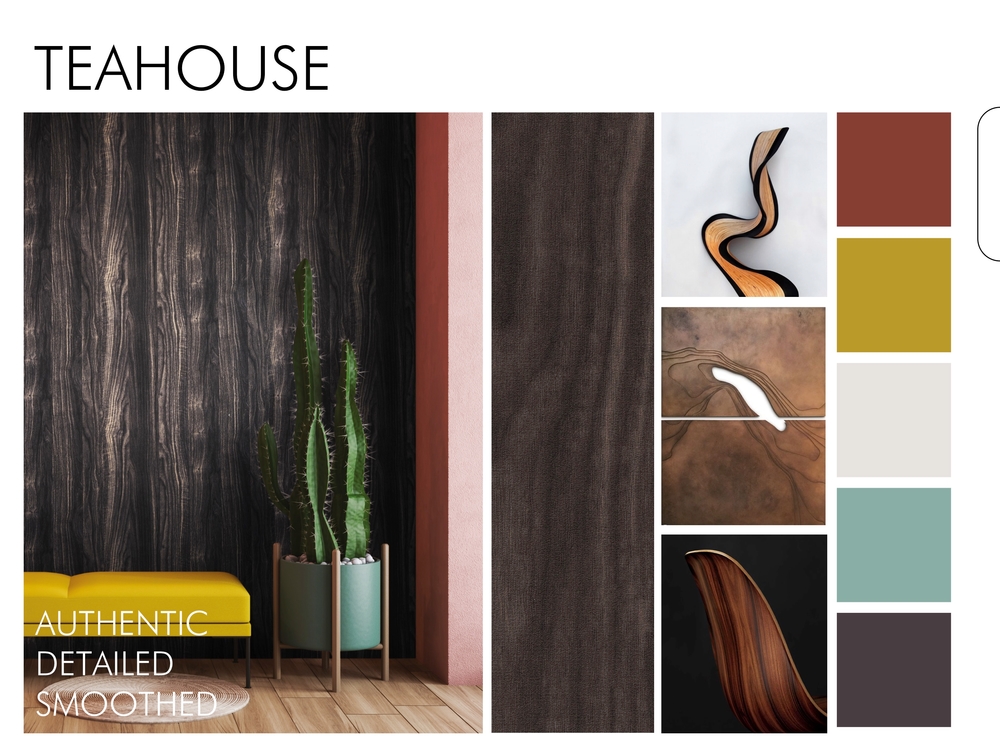 A smooth surface wood grain with a charred effect, Teahouse brings the simplicity of Japanese architecture together with the sensory sleek surface of polished wood. See all 5 colourways here.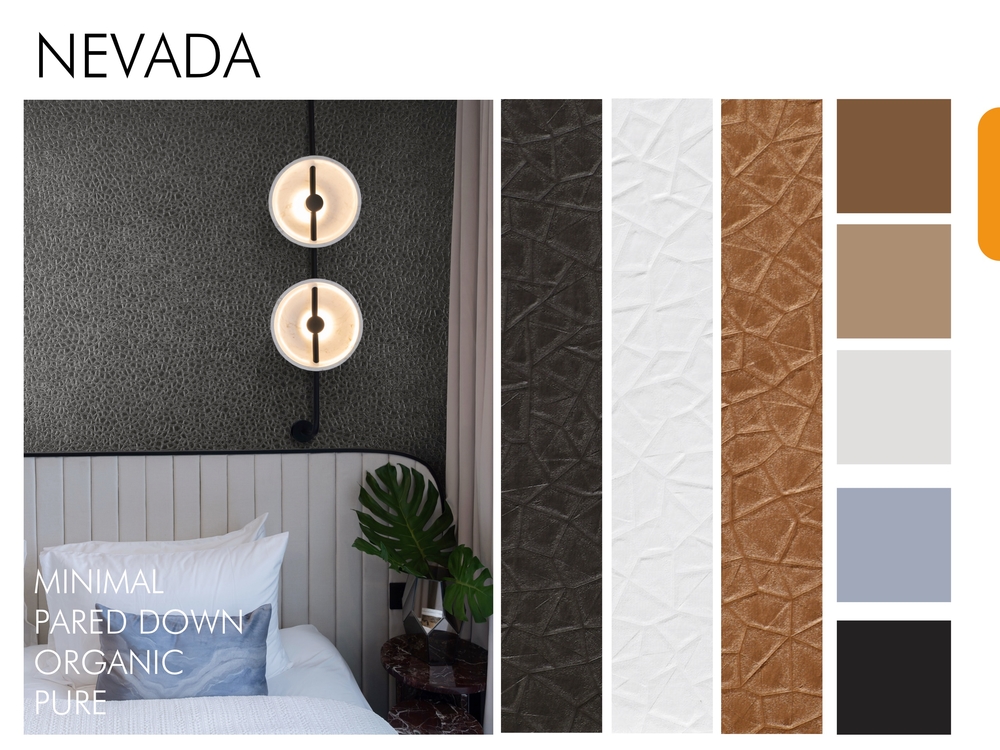 Inspired by the cracked desert earth of its namesake, Nevada is all about the textured surface! In both matt and metallic finishes, from jet black leather looks to high shine silvers, discover all 14 colourways here.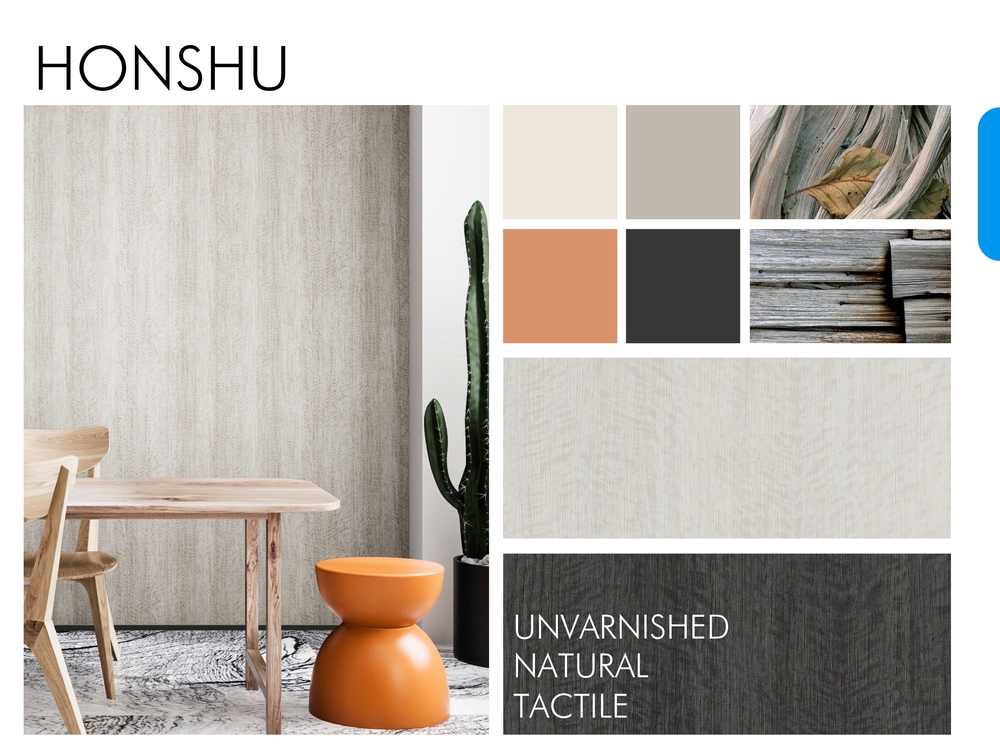 Named after the Japanese island that houses Mount Fuji, Honshu is all about the zen-like simplicity. A maple-inspired wood texture, Honshu is simple, tactile and matte. From charred black to natural woodgrains, click here to see all 16 colourways.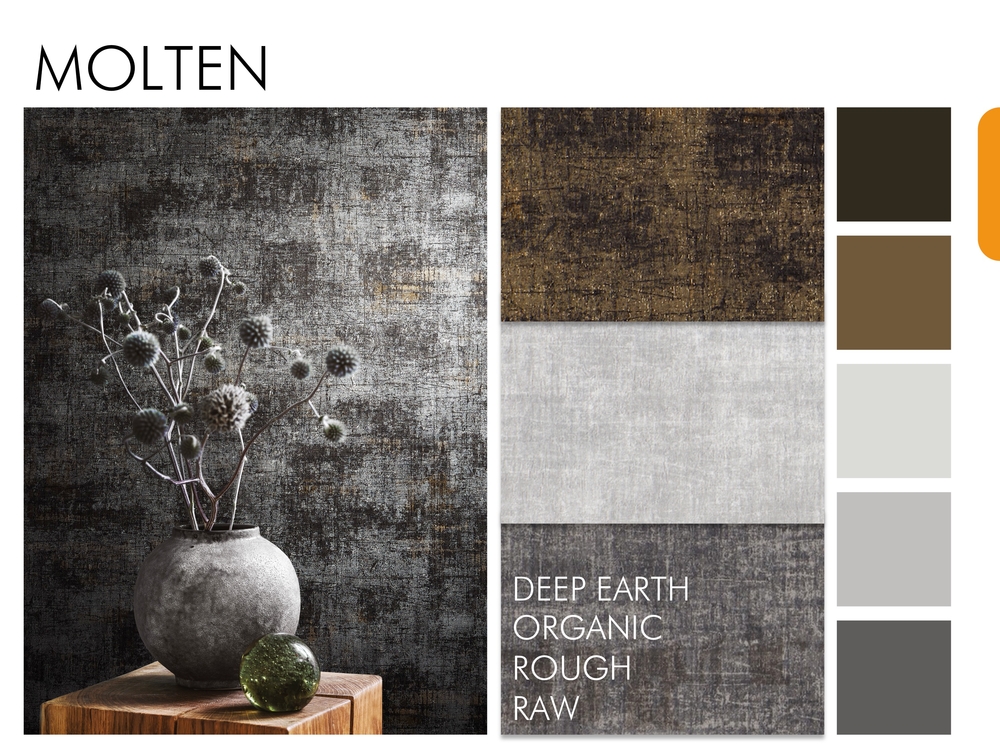 Feed your senses! A deep raw texture inspired by volcanic rocks and stones, Molten is all about texture and touch. From stony grey to patina and rust, Molten comes in 8 earthy colourways - see them all here.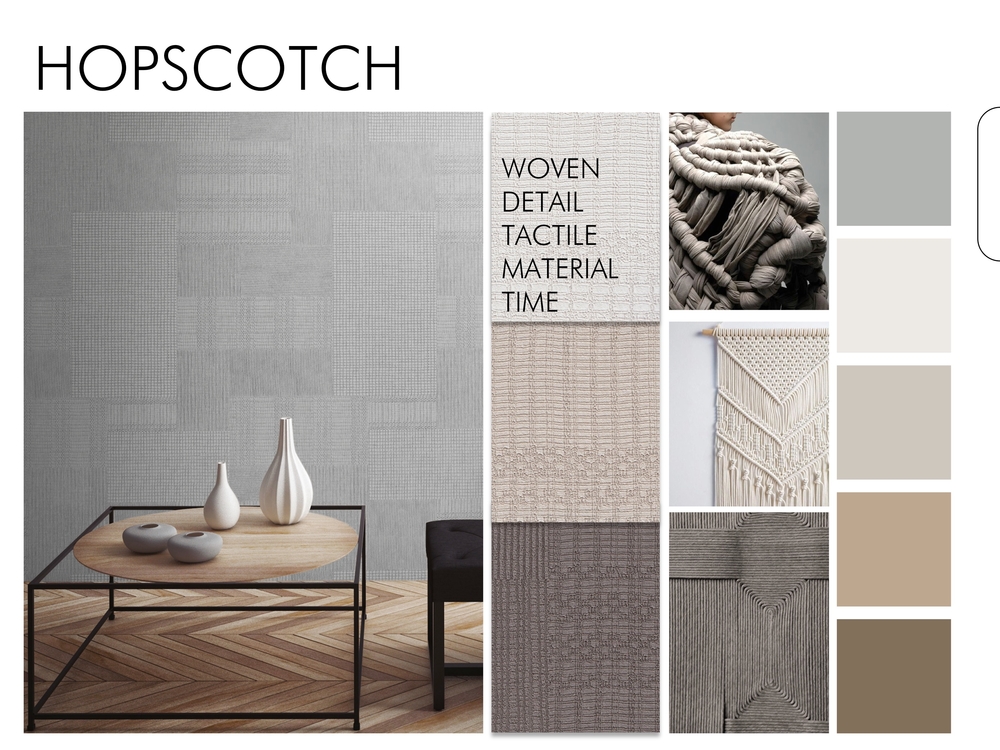 An artisanal jute weave, Hopscotch brings a modern twist to a traditional technique! A large-scale design, Hopscotch is full of authentic texture and detail. See all 7 colourways here.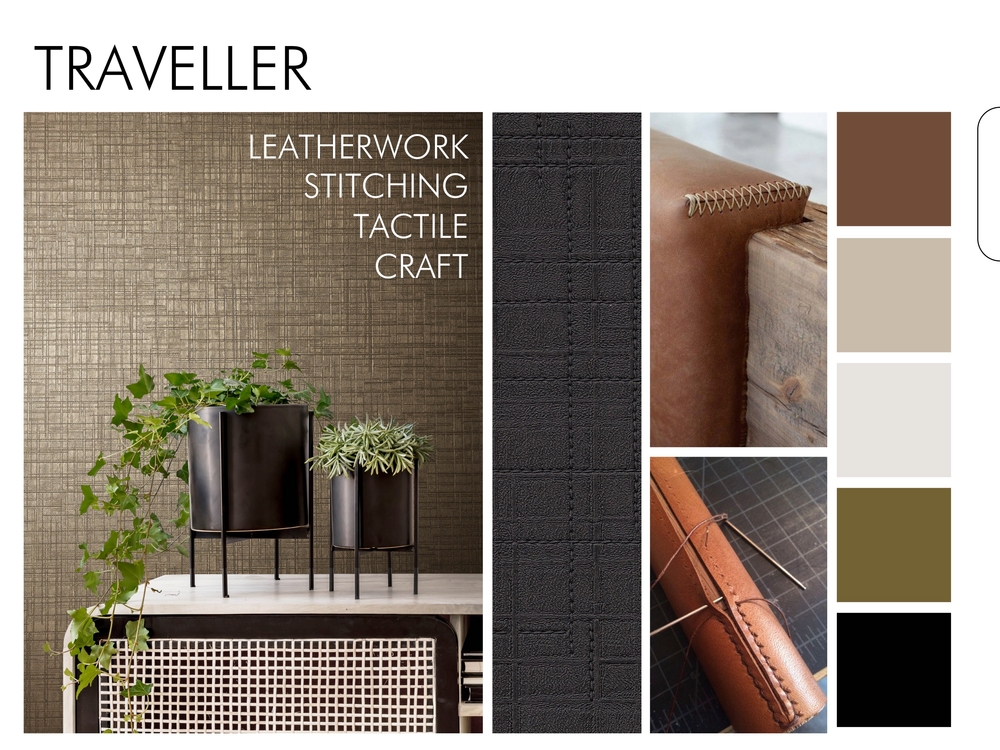 All about the craftsmanship! With a burnished stitched leather texture, our new Traveller wallcovering design comes in 12 colourways - see them all here.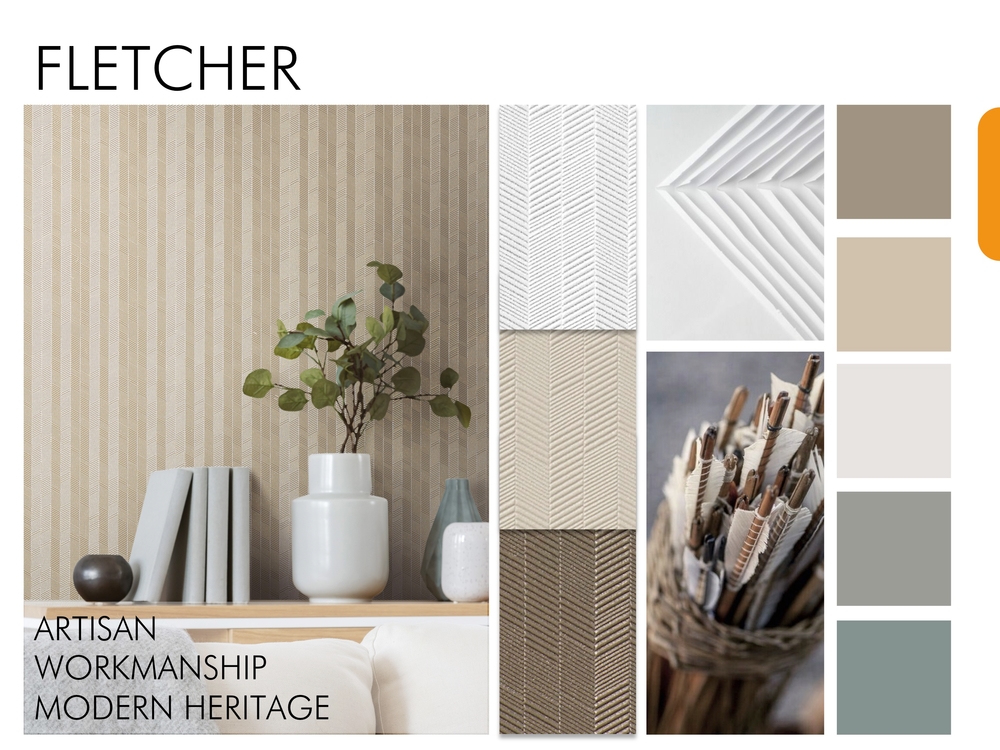 Modern heritage! A chevron texture in matt, metallic and pearlised finishes, Fletcher is inspired by the tail feathers of arrows. Named after the traditional craftsman who attaches the feathers or "fletchings" to the shaft of an arrow, our Fletcher design brings this ancient technique into the 21st century! From metallic gold to electric blue and putty pink, see all 14 colours here.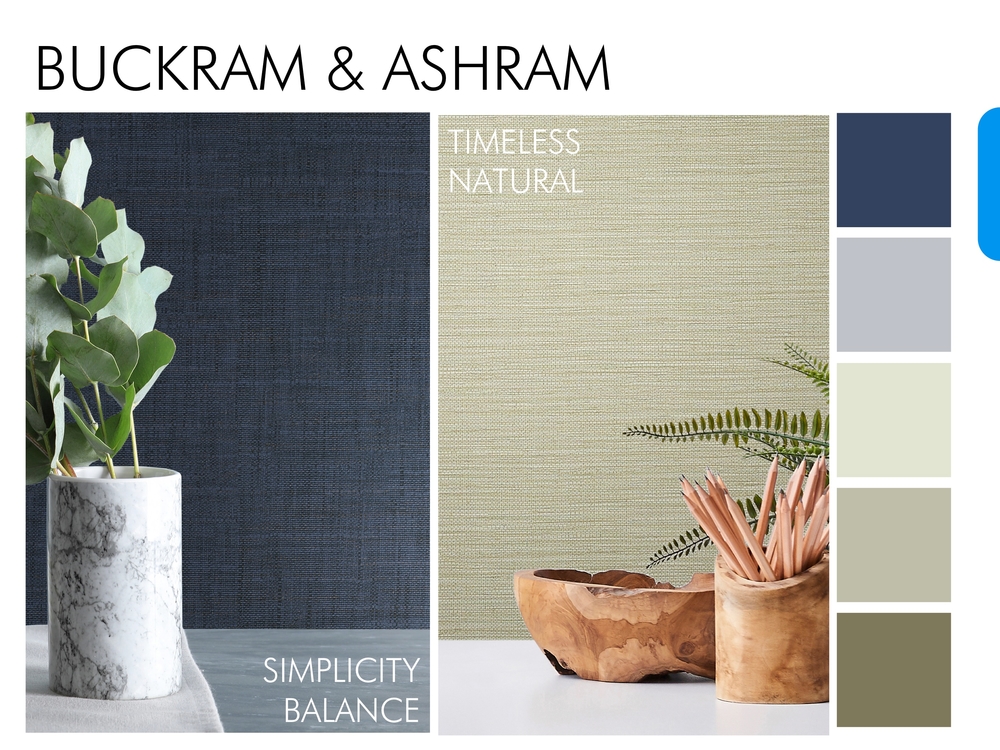 Two timeless weaves! It's all about simplicity and finding a balance between feature wall design and those classic backdrops. With lots of versatile neutrals and statement colours to choose from, click to see more of our Buckram and Ashram designs.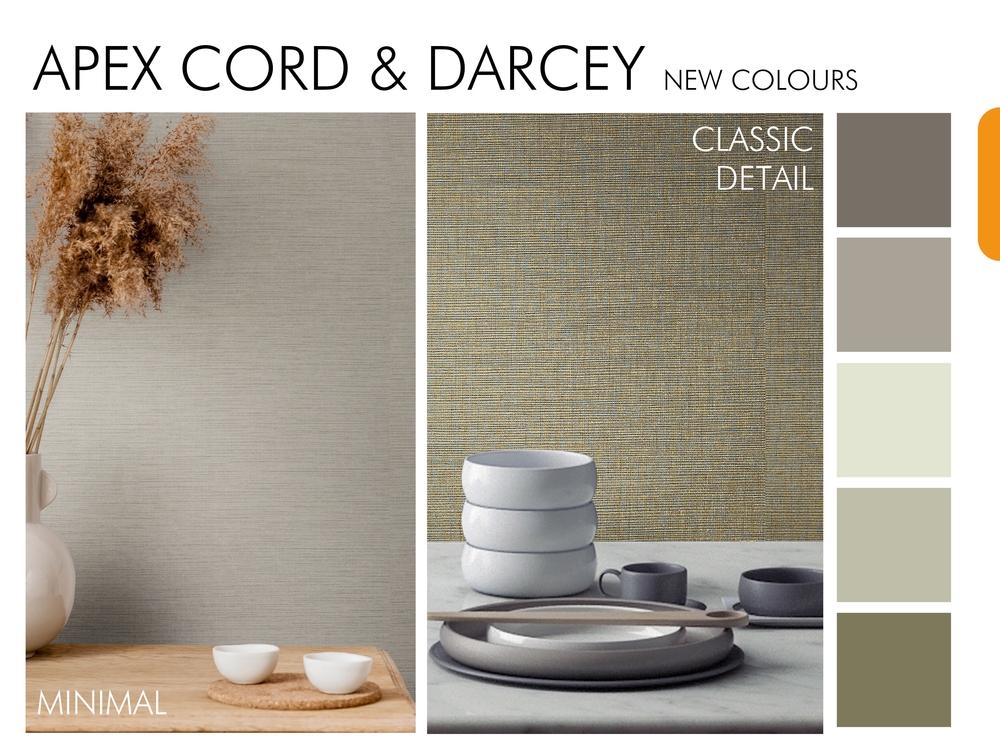 Recoloured and updated! We're welcoming back our Apex Cord and Darcey designs to our wallcovering library.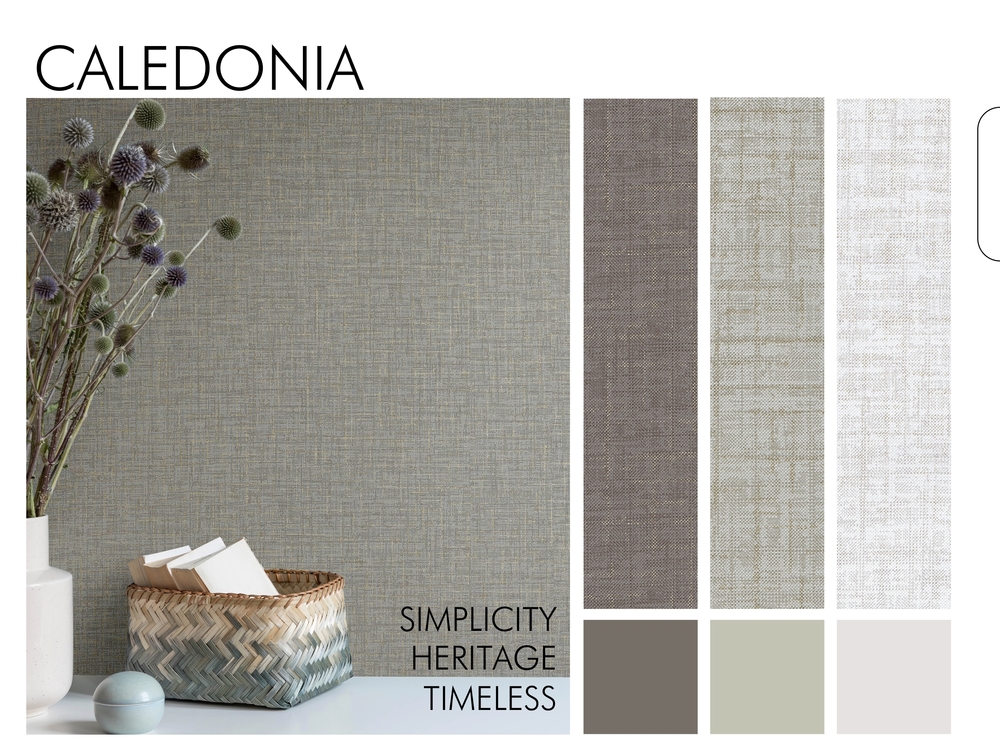 A subtle plaid with metallic threads, Caledonia is a classic and timeless design. All about quality and heritage, see all 12 colourways here.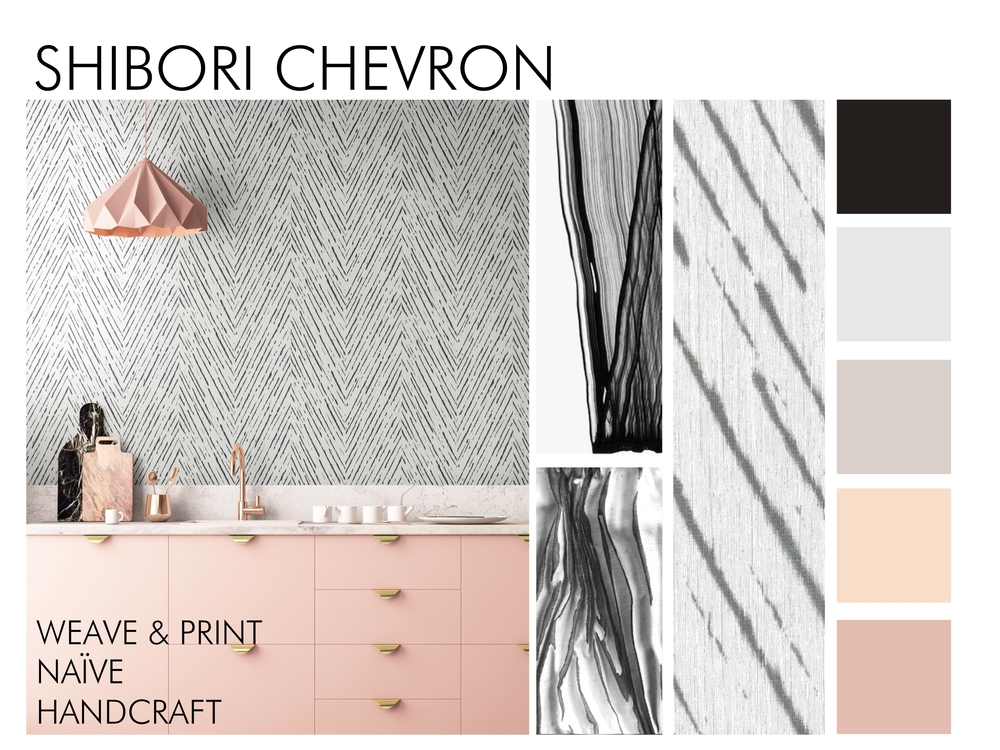 A painterly chevron print on silkstrand ground, our Shibori Chevron wallcovering is inspired by tribal prints and traditional shibori dyeing techniques. From graphic black and white to rich tangerine, explore all 8 colourways here.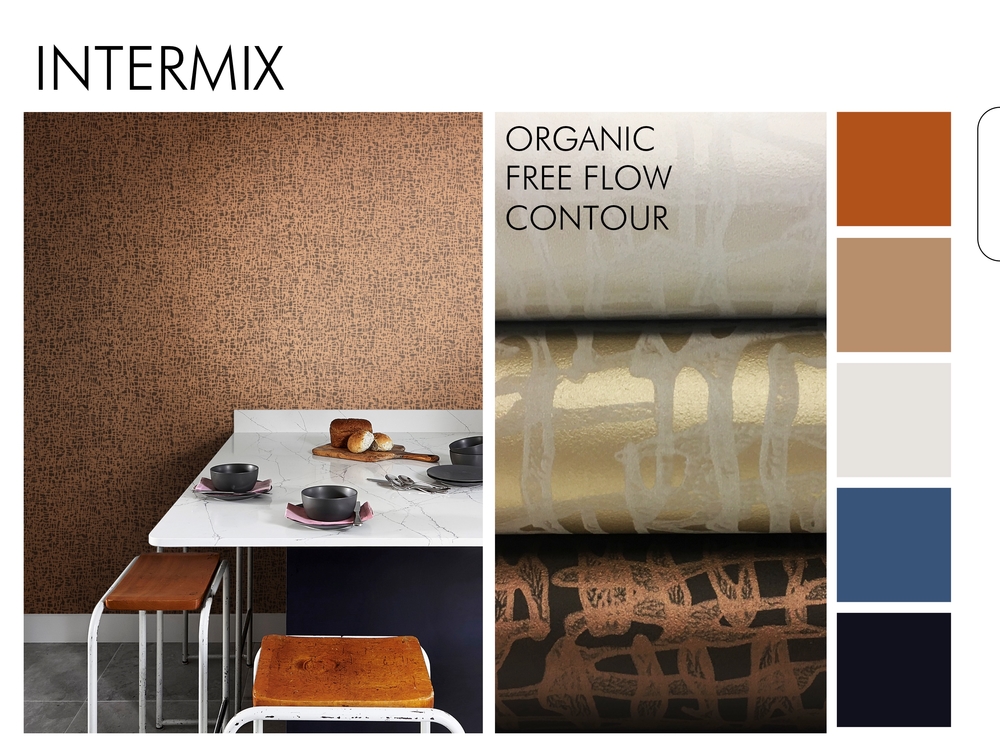 An abstract painterly weave in both matt and shimmering pearlised finishes, Intermix is all about letting go! Made up of expressive, freestyle brushstrokes, Intermix comes in 9 colourways - from the bright and bold to the sophisticated and muted, discover them all here.
To see all our latest designs and explore our current library follow the link here.
Join the conversation and let us know your thoughts by following us on Twitter & Instagram (@TekturaTalk) and Facebook (@TekturaWallcoverings).
For case studies, blogs and trend reports - click here.
Or click here to sign up to our newsletter to keep up to date with what's going on and our latest launches.