NEW LAUNCHES September 2018

Published on , in News.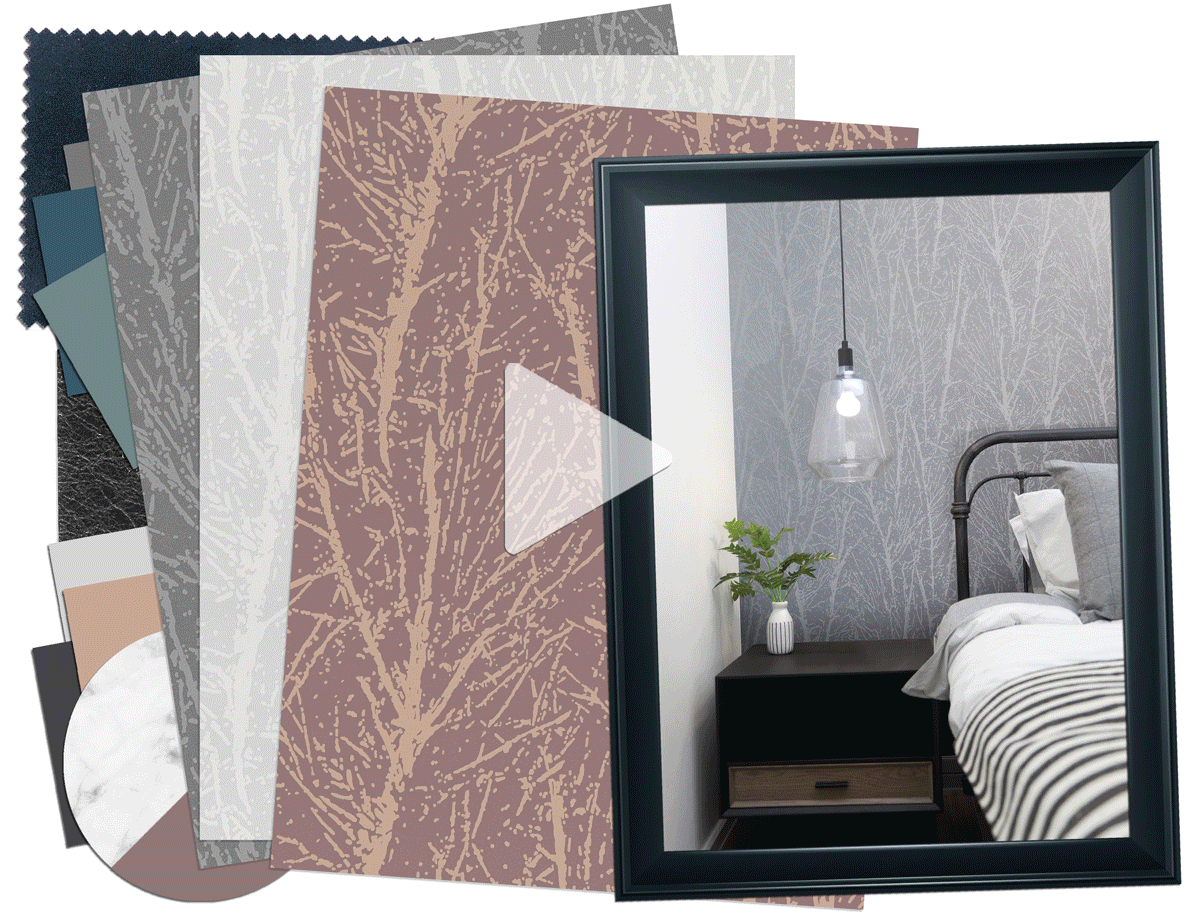 For our September launches this year we looked at connecting to the natural world around us. Our new designs form 2 groups....Ambient and Grounded. Find out about the themes and take a peek at our latest designs below....

We've been hearing a lot about wellbeing and connecting to nature. We're retreating from our hectic lives and the constant communication of the digital world. We're holding onto the desire to connect to the outdoors.
Our Ambient look is light, airy and calming. Much of it is about flora and foliage - linking to trends of hanging gardens, plants, leaves and twigs. We're seeing the colours from industry forecasters such as Dulux Heartwood & Honey Spice, and Pantone's Marsala and Rose Quartz, emerging and evolving. Colours are calm and cosy from soft caramels to spice, and greens range from jade to safari.
From this Ambient look, we cross over to a world of warm, honest and aged surfaces - welcome to Grounded. We know that incorporating natural materials, light, vegetation and other experiences of the natural world can have a big impact on our overall wellbeing. It's no secret that spending time in the great outdoors is good for you, therefore we're bringing it inside and onto walls. Taking inspiration from natural materials, this section is all about the tactile and textured surface. Colours are earthier than in their Ambient counterpart, with deeper, intense colours such as terracottas and jewel tones being introduced.
Let's take a look at out 15 brand new designs...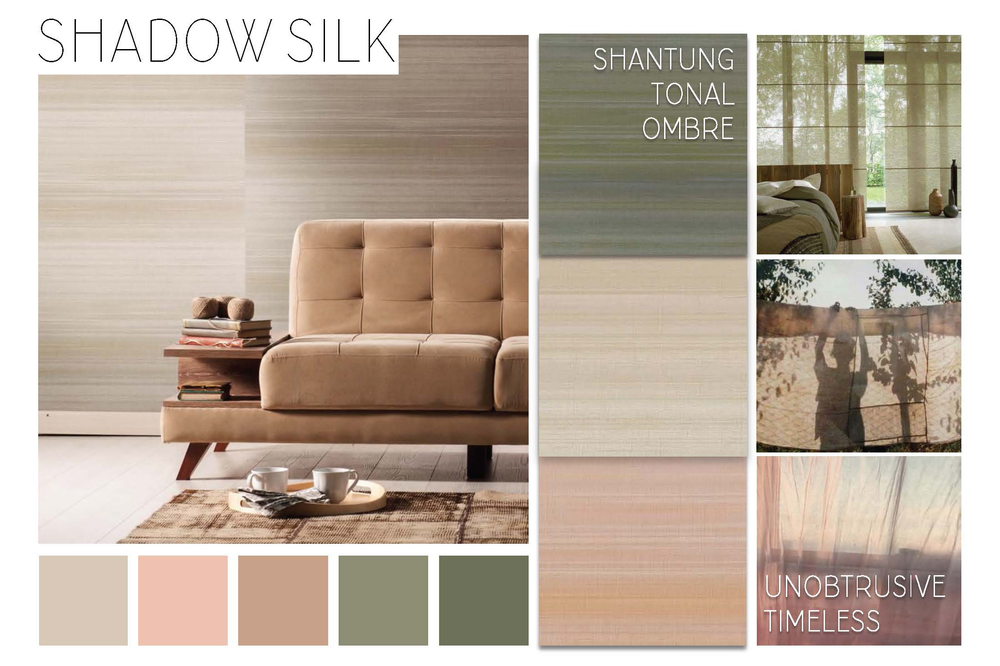 A dramatic, non-matching panel effect; Shadow Silk is an elegant banded shantung silk. Timeless and unobtrusive it oozes luxury. Colours range from soft pastel to rich jewel tones. See the full range here.

A coordinate to Shadow Silk, Shadow Leaves is an elegant and delicate floral print. Tone on tone the design is subtle and shadow like, whilst contrasting colours create a dramatic feature print. Click here to see the full range.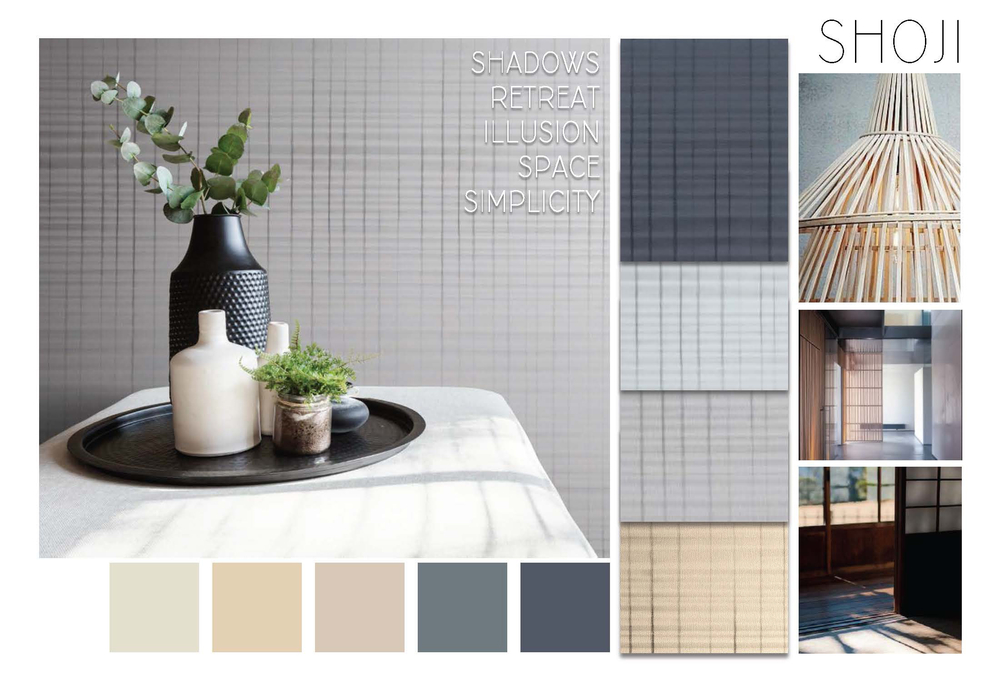 Shoji are Japanese paper screens. This subtle shadow print gently fades in and out bringing to mind the traditional screens. We're seeing these skeletal patterns not just in wallcoverings but also in fashion, furniture and lighting design. Click to see the full range.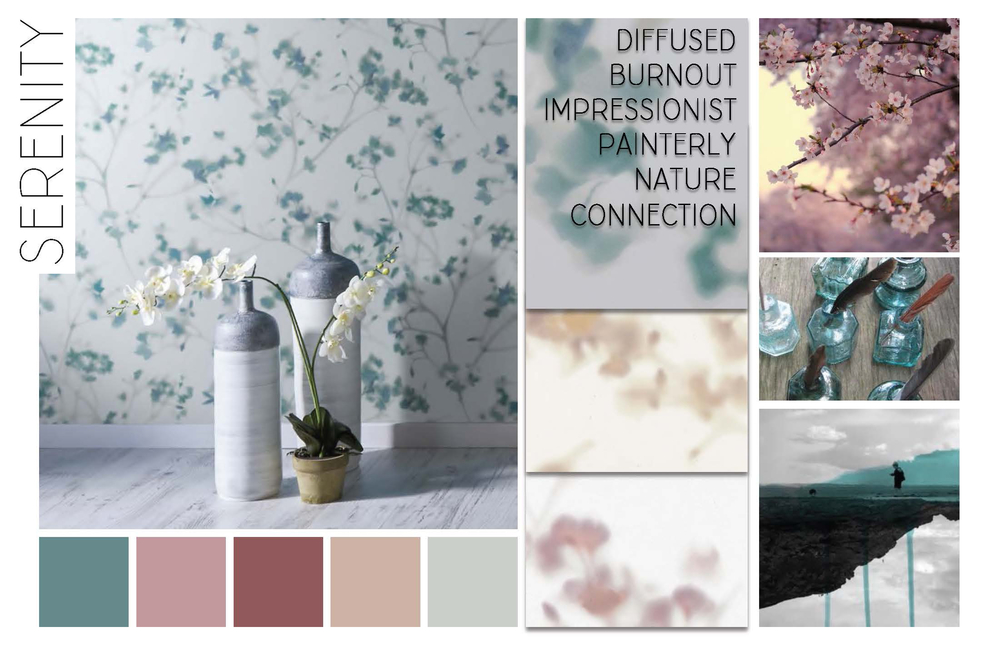 Moving away from the structured damask patterns of the past, Serenity is a soft focus floral pattern. Feminine, delicate and diffused; we've taken inspiration from the natural world. Whether fake or real, the effect is the same... bringing the outside in feels good and aids wellbeing. To see the full range click here.

A skeletal, twig-like design, Alpine is imperfect and delicate. Taking inspiration from block prints, the selection of hues range from light and airy to bold and dramatic - click here to see the full range.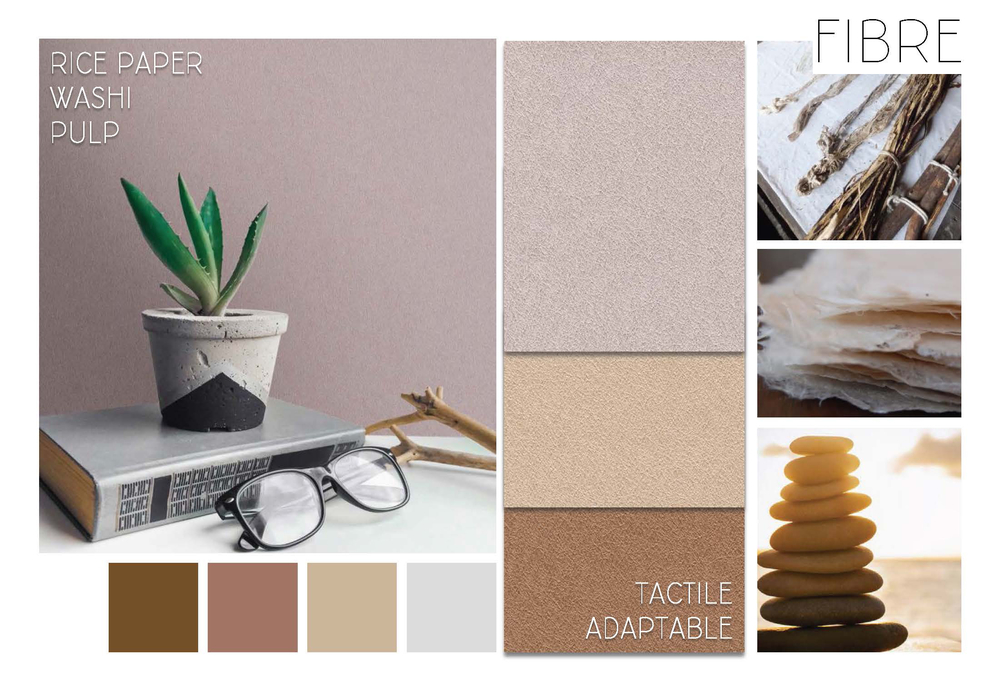 Inspired by rice paper, Fibre has a delicate texture that's tactile and adaptable. Slightly iridescent it's elevated from a classic plain. With over 25 colours to choose from, the design ranges from warm nutmegs and spiced honeys to airy peaches and pinks. Click here to see the whole range.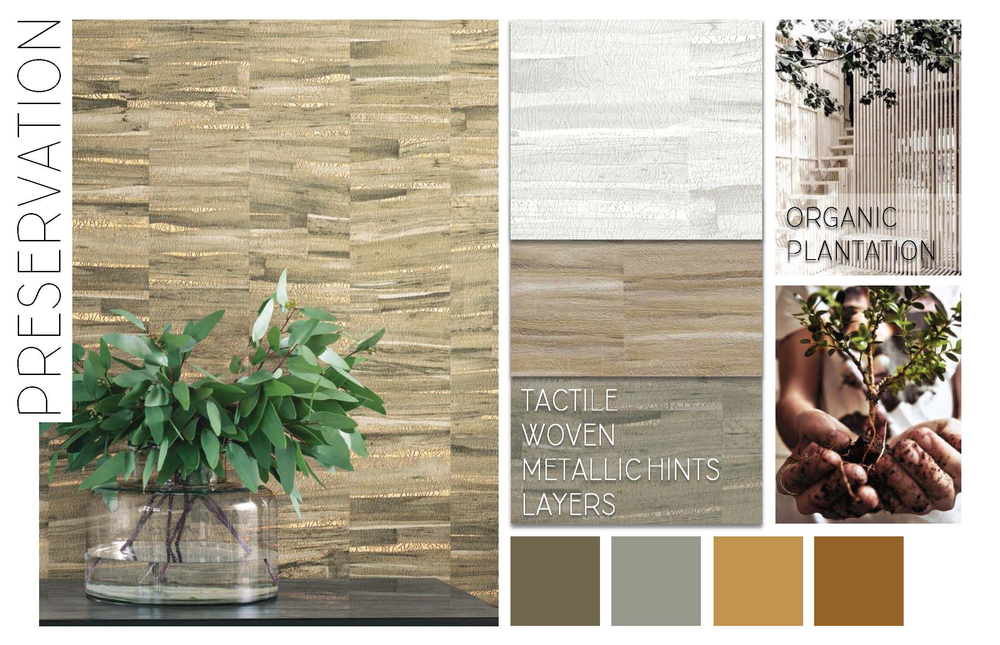 A play on dried hyacinth leaves, Preservation has warm, organic layers with glints of metallic peeking through. The first design in our Grounded theme : you can see more colours here.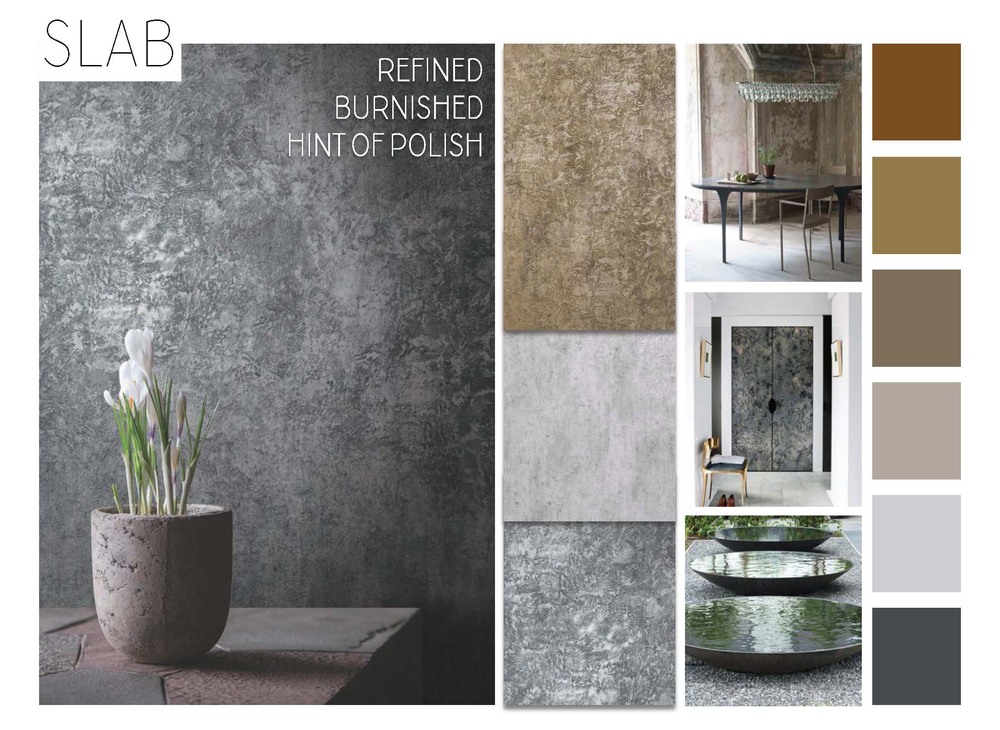 Even the stones and concretes we've seen emerging in recent years are evolving away from the urban and distressed look. They are more sensory, feeling cool to the touch. Slab embodies the look of polished plaster or, in bronze and gold, of burnished metal. Have a look at the whole range here.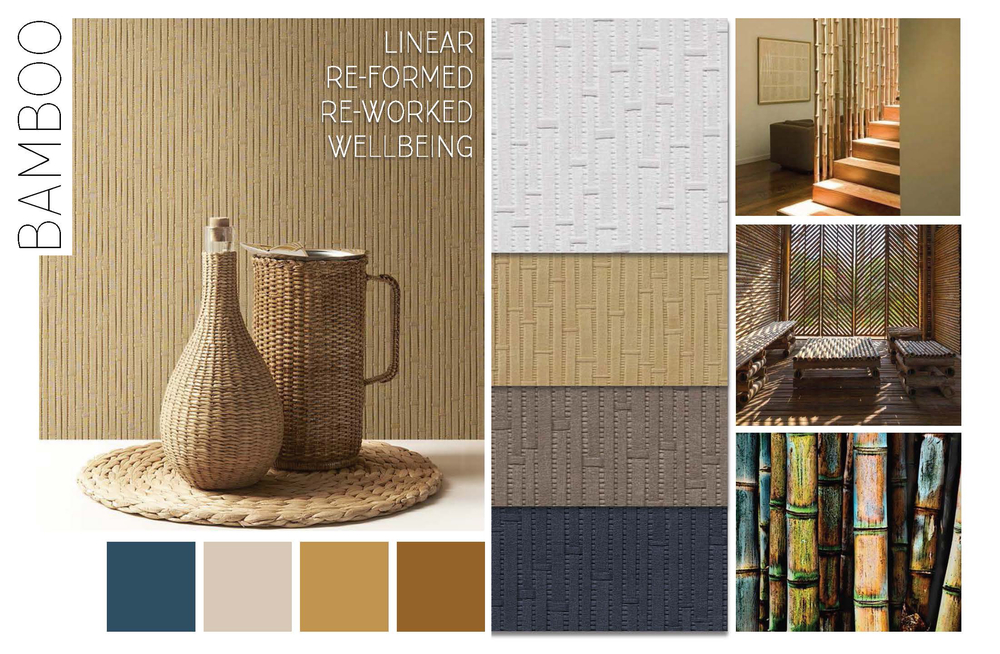 Sleek and chic, our take on Bamboo is deeply textured and sensory. A woven and linear design it's an elevated version of the organic material. Click here to see the full range of colours in this product.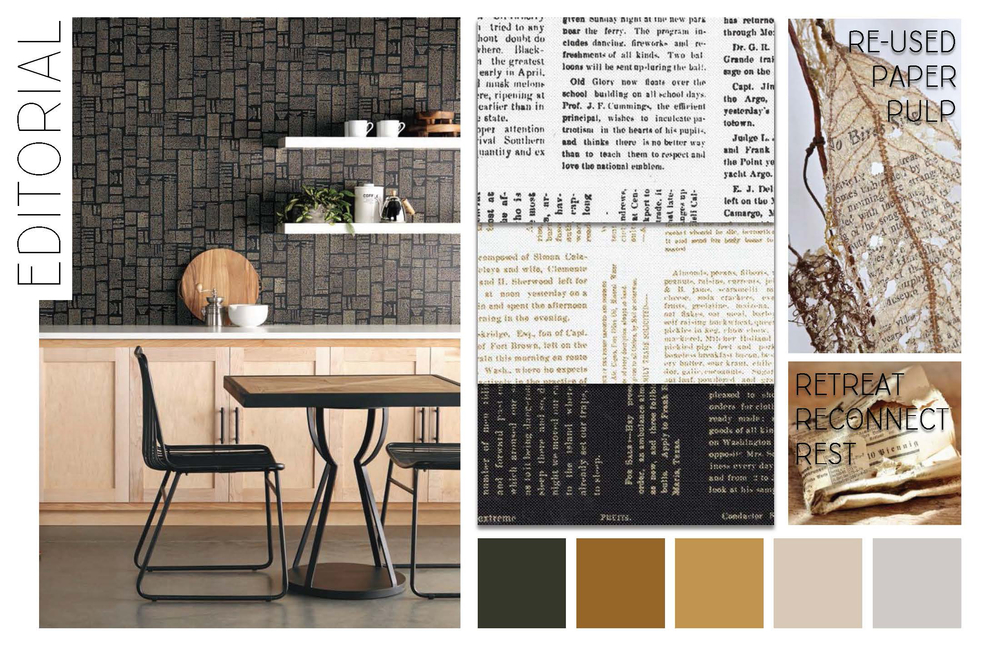 Put away your phones and pick up a paper! Our Editorial design is all about reconnecting with the physical newsprint and book.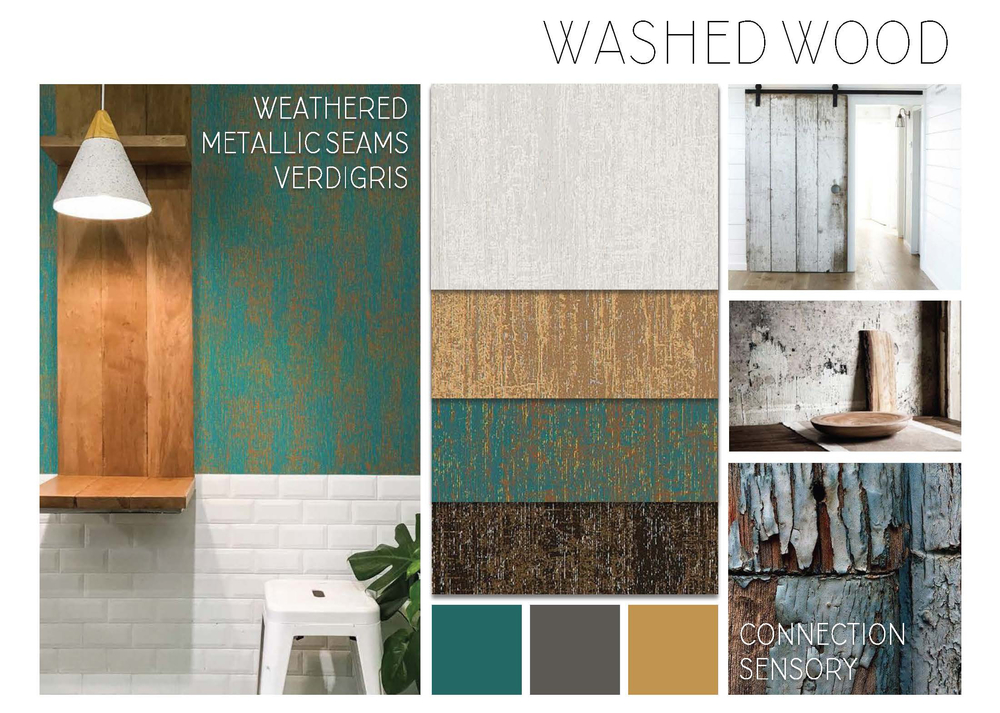 It's all in the name! Washed Wood has a distressed effect with metallic highlights that gives an earthy, weathered feel. Colours are stimulating ranging from rich teals, to layers of warm nutmeg, to cool whites - see them all here.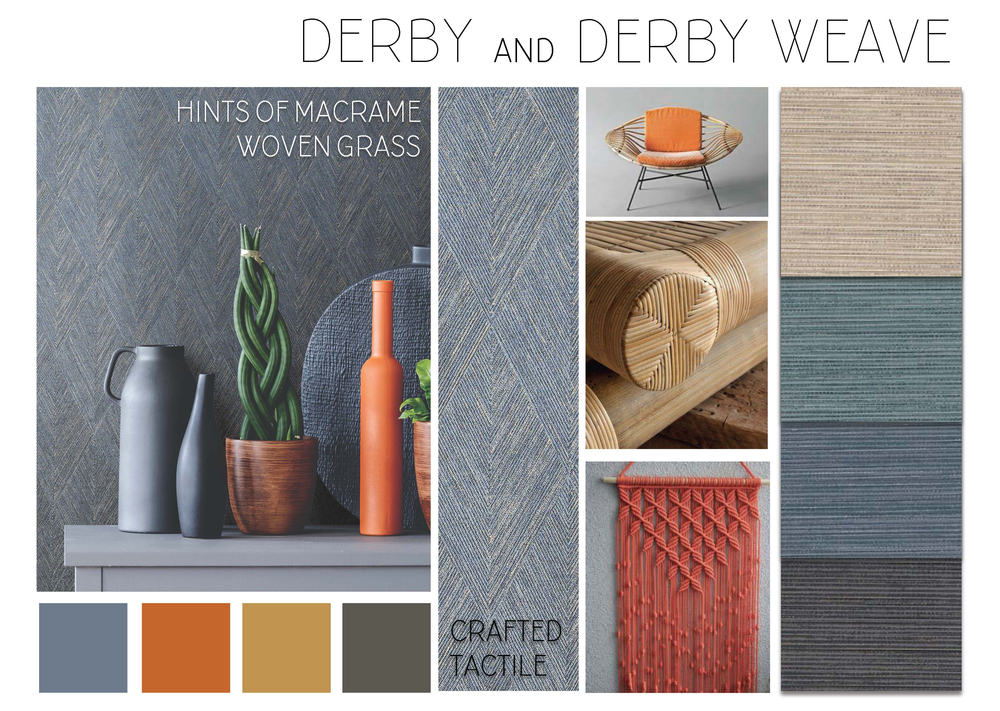 Companion designs Derby and Derby Weave are tactile, delicate grasscloths. Derby Weave is a classic horizontal grasscloth, whilst Derby is a nod back to geometrics with hints of macrame.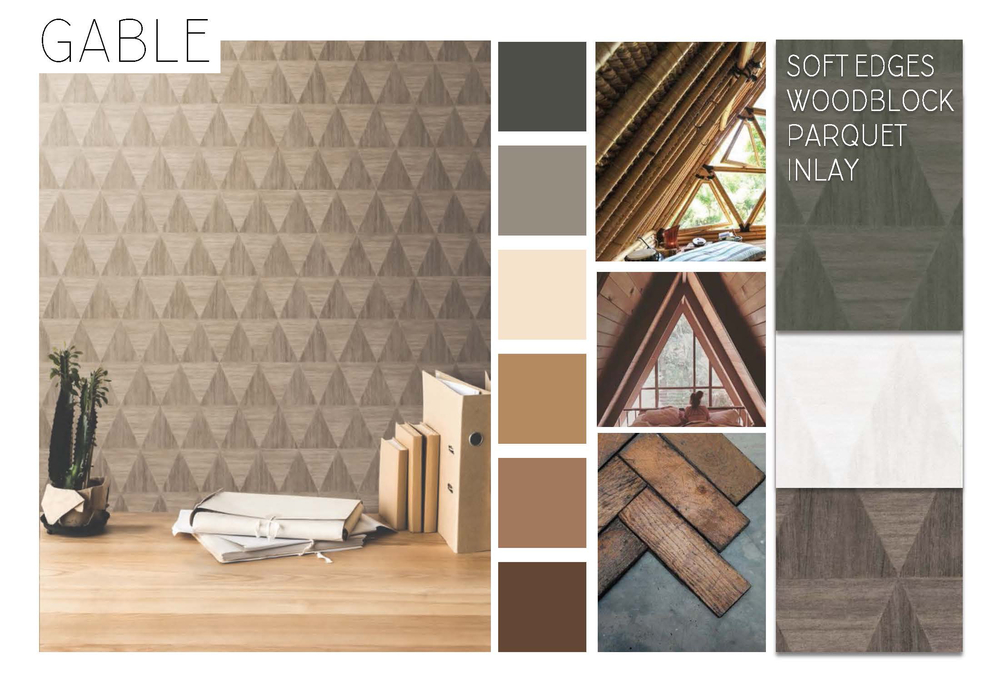 Gable is a softer, earthier option to the structured and sharp geometrics we've been seeing recently. Reminiscent of parquet or inlay, the design has a natural tessellated finish. To see the full range click here.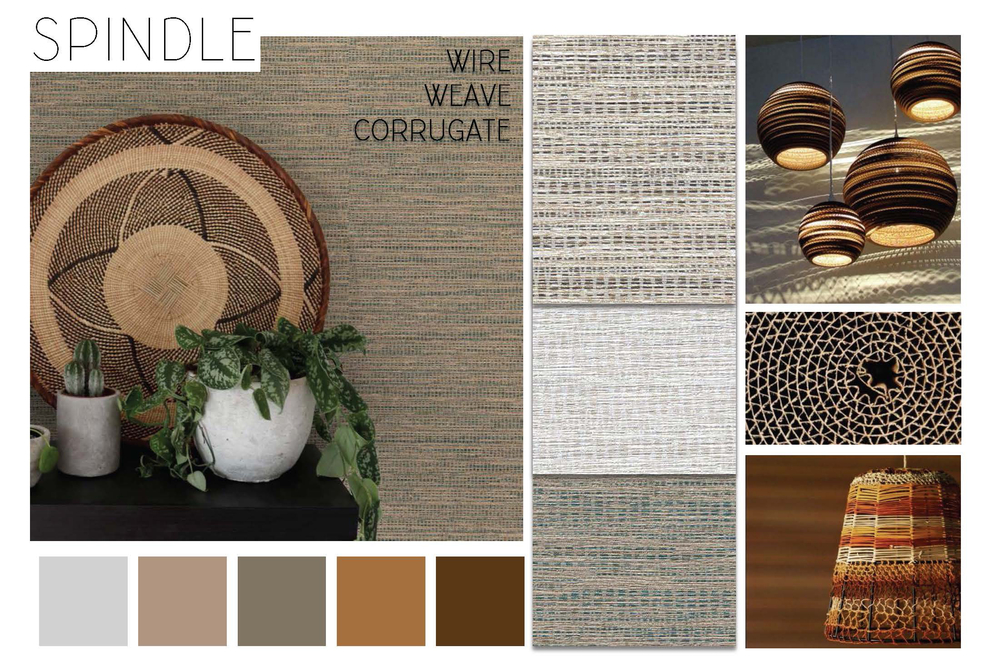 A woven wire, corrugated cardboard, crossgrain wood? What do you see in our Spindle design? The multi-layered threads make it the perfect flexible and versatile design to allow pops of colour to be pulled together for different schemes. Click here to see more.
From the airy Ambient to earthy Grounded, our September launches are all about connecting with our environment. Inspired by the natural materials of bamboo, wood, stone, paper and foliage - it's all about bringing the outside in and providing a retreat from the hectic urban life we live in.
Join the conversation and let us know your thoughts by following us on Twitter & Instagram (@TekturaTalk) and Facebook (@TekturaWallcoverings).
For more case studies, blogs and trend reports - click here.
Or click here to sign up to our newsletter to keep up to date with what's going on and our latest launches.