CASE STUDY : Believe Housing Headquarters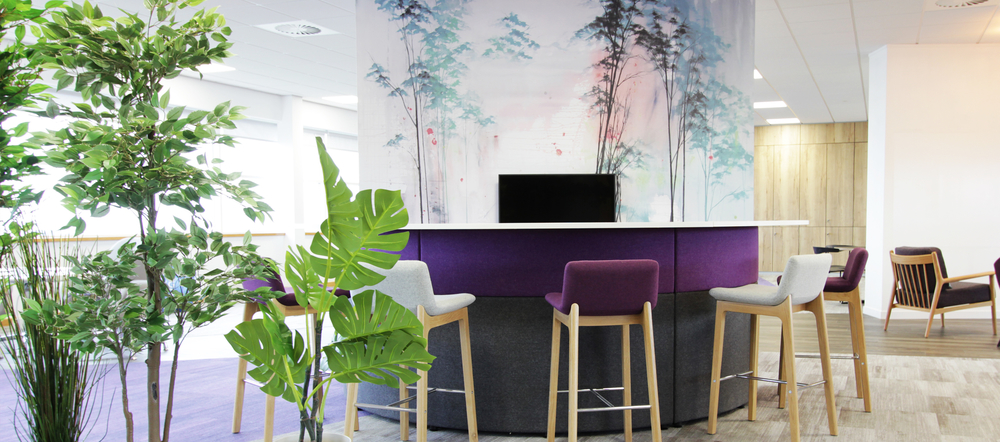 Published on , in Projects.
Following a 19-week fit-out and furniture installation by Ultimate, Believe Housing celebrated the opening of their new offices in February 2020.
Encouraging interaction and collaboration, the layout of Believe Housing's new headquarters incorporates various zones so employees can choose where (and indeed when) to work. Situated adjacent to breakout areas The Library offers individual cocoons and privacy; The Work Cafe - there are two - have a more energetic vibe for get-togethers and provide a place for taking time out. And finally The Innovation and Training Hub, complete with Bleacher seating, is designed specifically for talks and presentations. Interior designers Cocoon & Bauer worked in conjunction with Ultimate Design and Build creating this agile and flexible working environment.
Scroll down to find out more...

The Library zone using Tektura's Vintage Books wallcovering

The Library zone using Tektura's Minimal Books wallcovering
From vintage bookshelves to modern minimal, the designers added two of our book wallcovering designs for striking feature walls.
Sunshine yellow or inky blue, where would you choose to work? Using our Kata Lips Shinrin design in energising yellow and blue, the different colourways gives a clear separation of space in a cohesive scheme. With our Tekwrite Write On installed in each area too, employees have the chance to get together and easily collaborate on ideas.
Adding in foliage with our Elli Popp Monstera Deliciosa Aqua wallcovering, soothing greens and teals help create a calming and creative atmosphere.
Natural surfaces take centre stage using our Riviera Maison collection wallcovering. With a warming wood texture, the effect brings a softer side to the office interior. Again using a strip of our Tekwrite Write On, it encourages employees to share ideas and be creative wherever they may be in the office.

Using ceiling panels and baffles from our range of Zintra acoustic solutions, internal and external sound influences are absorbed reducing the noise level in the open-plan office space. Two acoustic products were selected: the baffles and the 'door' hanging from the ceiling are all Zintra. The hanging door suspended from the ceiling was even custom made, as we 'etched' the door effect into a flat panel.

A round-up of the wallcovering designs used in this project. All conform to fire ratings for public areas, are scrubbable and can be cleaned with diluted bleach. All wallcoverings contain antimicrobial additives. Click on these links to find out more : RIVIERA MAISON COLLECTION, VINTAGE BOOKS, KATA LIPS SHINRIN, KATA LIPS KIGI, ELLI POPP MONSTERA DELICIOSA, MINIMAL BOOKS, TEKWRITE WRITE ON.

Choose from 20 colours. Ultimate used 2 types of our Zintra acoustic solutions - the baffles and a custom created suspended ceiling panel. Can be cleaned with diluted bleach. More information on Zintra acoustic solutions can be found HERE.
Images courtesy of @Ultimate_Office
Join the conversation and let us know your thoughts by following us on Twitter & Instagram (@TekturaTalk) and Facebook (@TekturaWallcoverings).
For more case studies, blogs and trend reports - click here.
Or click here to sign up to our newsletter to keep up to date with what's going on and our latest launches.