CASE STUDY : Brass Founders - luxury student accommodation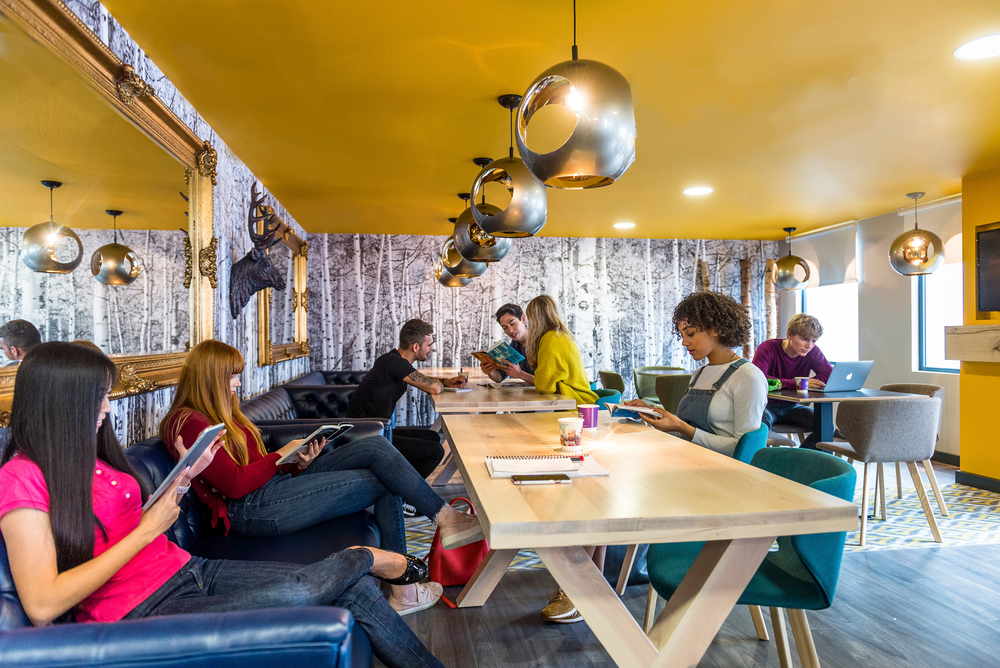 Published on , in Projects.
This is student accommodation : Brass Founders in Sheffield.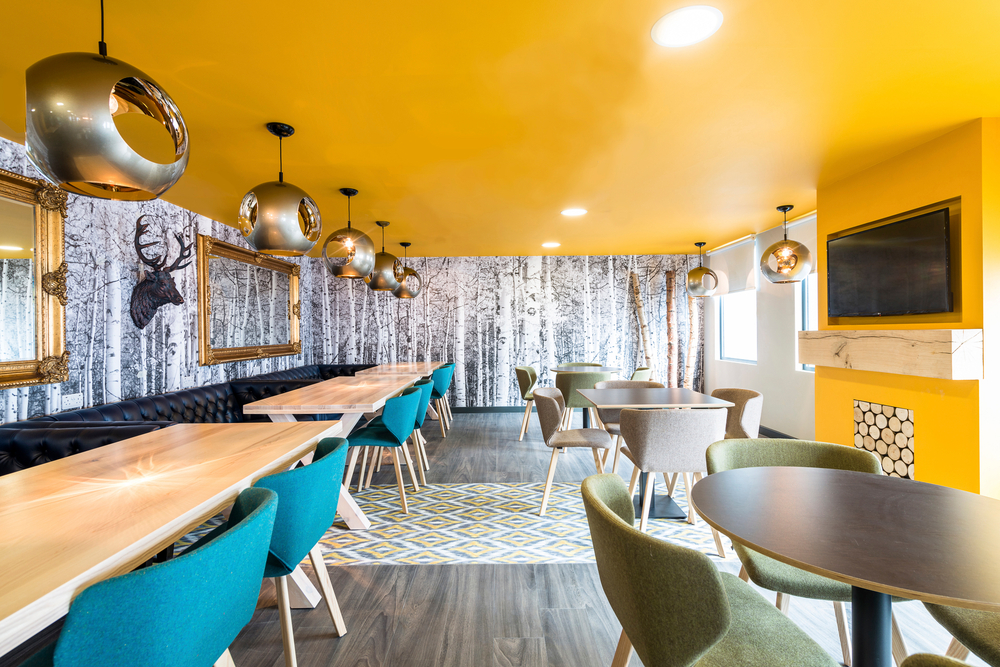 Featuring a games room, gym, communal eating area, social hub, workspaces and a cinema room, Brass Founders offers students a luxury home from home. Tektura wallcoverings have been used throughout the common areas.
Above we can see our Yellow Trees mural on the far wall - custom coloured in black and white. Below our Ink Blot design has been chosen for adjacent walls and window areas.
Kingston Shaw Interior Design were approached by Crosslane Group and Prime Student Living - to create functional yet inviting, characterful and inspiring interiors - a world away from traditional student digs and more in line with the boutique-hotel style Kingston Shaw specialise in. They told us "We combined practicality with luxury and in turn created a multi-functional distinctive and stylish space. We've incorporated, a life size Twister Board in the Games Room and sourced a bird caged chair for the living room, which we suspect will become the 'selfie' shot of the space".
Tektura's mural is shown here - one of a selection from our Kardo Findlater range.
Kingston Shaw added "Designing this wonderful space was an opportunity to re imagine our own student accommodation desires and provide a unique space for today's scholars to live, work and study in".
Tektura wallcoverings : Old Masters by Kardo Findlater, Yellow Trees, Ink Blot
Tektura's Concrete Colour design has been recoloured to reflect the furniture and flooring
Tektura wallcoverings : Concrete Colour, Heritage Wood, and Yellow Trees
You can see a glimpse of our Heritage Wood wallcovering in the lobby, along with Yellow Trees - this time used as window film and wallcovering
To find out more about the wallcoverings and window film selected, click on the individual links :
Yellow Trees - Window Film - Ink Blot - Kardo Findlater - Heritage Wood