Lila's Jewellery, East Dulwich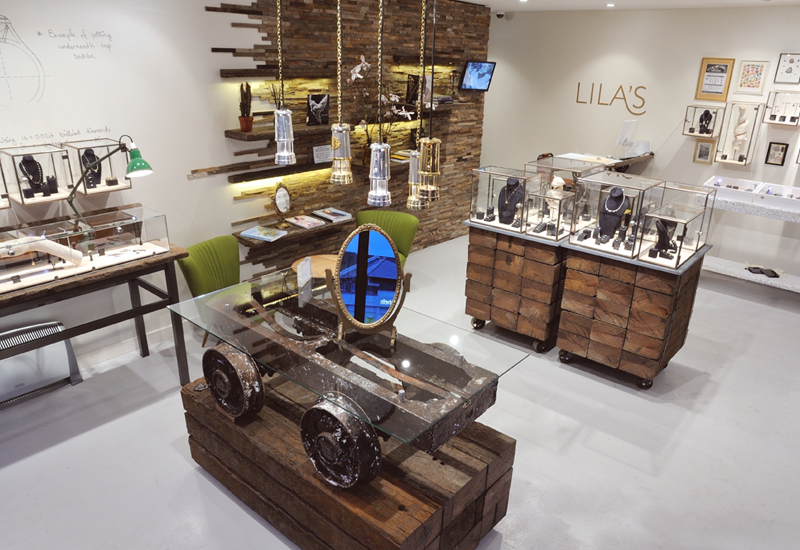 Published on , in Projects.
Lila's Jewellery store has a unique point of difference: it is an educational facility as well as a shop for pre-owned and redesigned gold and gemstone jewellery.
Based on Lordship Lane in London's East Dulwich, the store has already caused a stir in the local community. Named after the daughter of founder Catalina Rosca, Lila's has a commitment to highlighting exploitation and poor working conditions in the gemstone mining industry. This is not a common approach in London jewellery stores.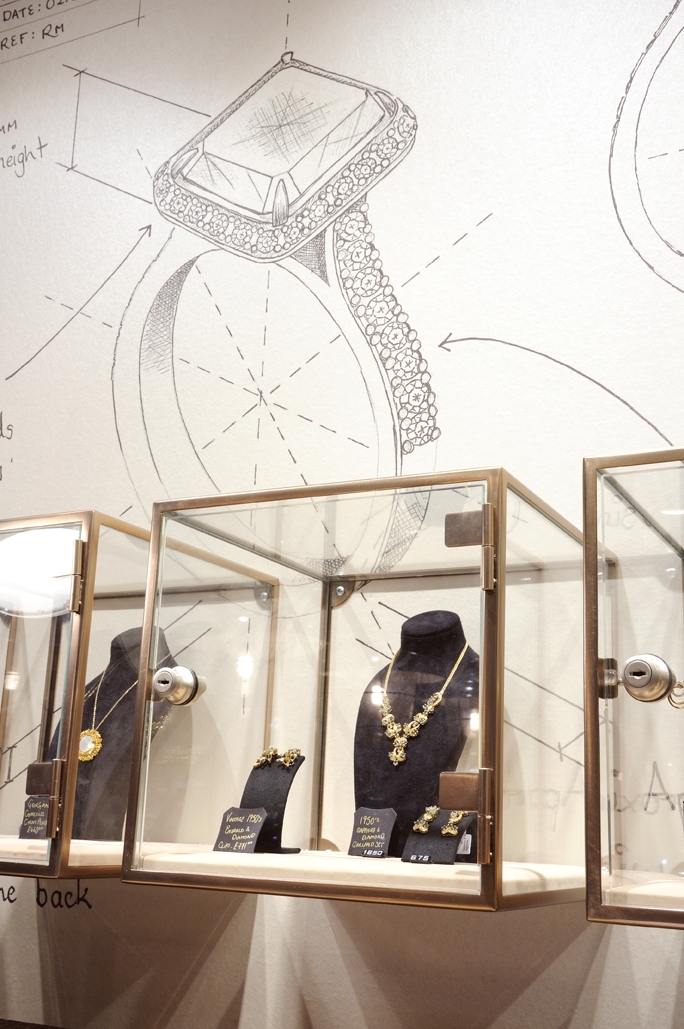 Tektura digitally printed the design for Lila's onto Shimmer, a twinkling, glittery wallcovering made from natural fibres
Rosca's family, originally from Romania, has a strong association with promoting responsible mining. "The Gemstone market has long been over-shadowed by the poor mining conditions and exploitation of its workers and, to address this, the jewellery trade has lately begun to focus on fairer conditions for extracting precious stones," says Rosca. "Yet those brands actively involved in a fairer trade are top-class companies with often prohibitive prices. The majority of the high-street jewellers are pretty vague as to the origin of their stones. So we believe that buying new jewellery puts an even greater pressure on the already turbulent mining conditions. By re-designing and re-conditioning pre-owned jewellery, Lila's is giving back to the market and at the same time, relieving some of that pressure."
The new store has been created by retail design agency Four-by-Two, which has worked for clients including Dune, Phase Eight and Harvey Nichols Edinburgh. It has sought to reflect Lila's commitment and focus in the store design by educating customers on responsible gemstone and metal mining while showcasing the redesigned 'pre-loved' items on offer.
Four-by-Two, which has offices in London and Edinburgh, used nothing new in the store design and build process. The group sourced 1950's furniture, factory lamps from the '60's and adapted existing materials such as railway sleepers to form display cabinets and merchandising units.
Bespoke wallpaper was digitally printed by Tekura, inspired by a drawing of a diamond solitaire created by one of the store's jewellery designers. All marketing collateral has been produced using recycled paper. The result is a store designed to be warm and exciting with an overriding message of sustainability and education.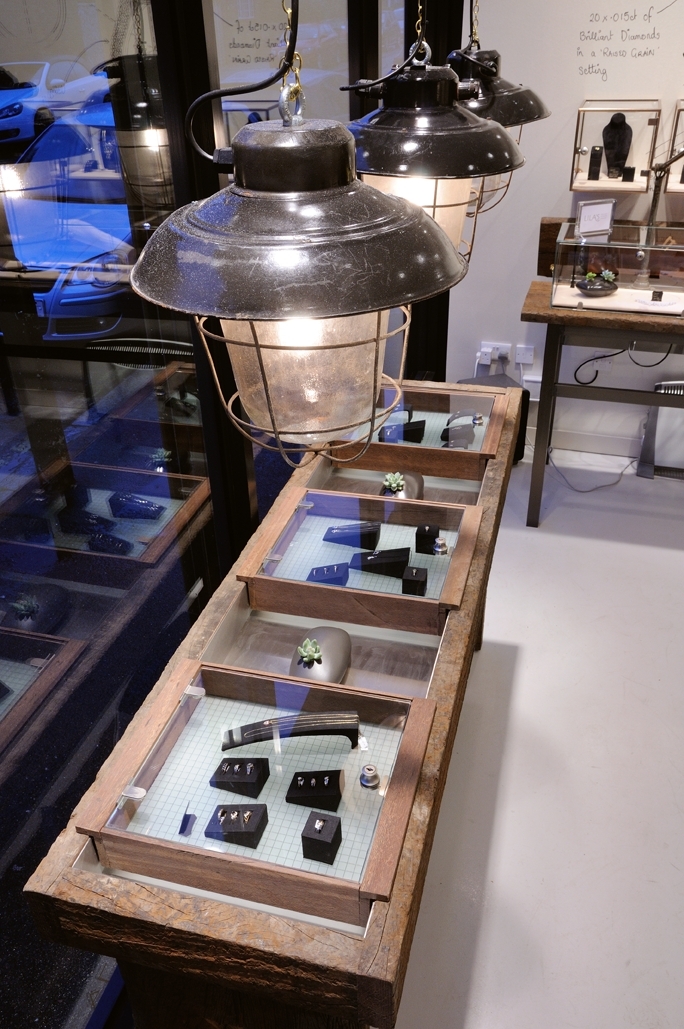 "We set out to create a store that would be a little gemstone in the local community," says Four-by-Two senior designer Liz Cole. "It was important to hero the products and by placing a focus on education, it's not just about selling to the public, it's about creating an immersive environment that helps them to understand more about the unique journey of the jewellery. Each display cabinet relates directly back to the making and discovery process and has a story to tell. The end result has a real sense of individuality and purpose."
A central feature is an old mining cart originally used for sourcing gold in Transylvania, an area recognised as having the largest gold deposits in Europe and where mining activities go back to the beginning of the seventeenth century. There is also a panning table, a cutting and polishing station, jewellers workbench and an old architect's drafting board used as the cash desk. Four-by-Two created a cabinet for young designers who recycle materials that had a previous life, re-interpreted to sell-on to a new owner.
"We were looking for a warm yet exciting atmosphere inside the store with a focus on two major aspects: recycling and education," says Rosca. "As all of our jewellery is pre-owned, pre-loved, re-polished, cleaned and given a new life, we wanted a store that would capture this unique approach. It's a really positive environment that asks a lot of questions and that is exactly what our business is about."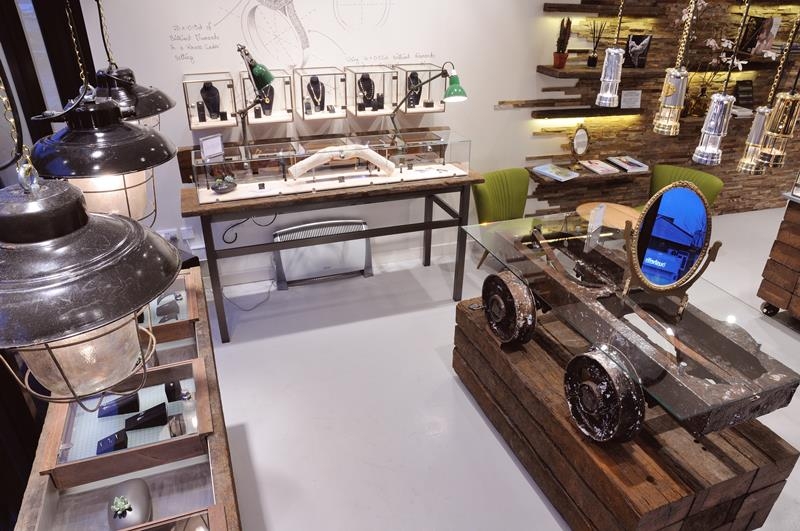 Lila's pre-owned gold and gemstone jewellery is re-polished to a high standard, then taken to the London Assay office for official hallmarking, researched, graded and valued by an expert. "We breathe life into old things", said Rosca.
Lila's owns the garages behind the store and plan to turn one of these spaces into a gallery and workshop for schools and colleges, to inject an even greater degree of education and community involvement to its store.
Main contractor: Garenne Shopfitting
Sourced items: mostly from Sunbury Antiques, Kempton Park