Window Graphics
Stunning effects can be created by combining glass and your graphic design. Keep the design flowing, by digitally printing adjacent wall surfaces too.
WHAT WE NEED
Simply provide us with the dimensions of the area to be covered, and the image or artwork you require.
ARTWORK
All normal artwork formats are acceptable. Images should be ideally a minimum 300 dpi quarter size for best results. For graphics and lettering, we recommend artwork in Vector format. We automatically interpolate artwork to achieve optimum quality at no extra charge.
Our graphics team will advise and guide on all aspects of your design. We will help source images and check the suitability of any artwork provided. If you require Tektura to create artwork on your behalf, or to change existing artwork, this will be subject to extra cost.
TEKTURA STUDIO & GUEST DESIGNERS
These designs are exclusive to Tektura, and have been created in collaboration with guest artists, photographers, graphic designers and graduates. They can be printed as wallcoverings. window film or acrylic art. Explore our own library here.
Every design has been tried and tested, and looks fabulous even when printed up to 3m tall or more. We can crop and resize to fill an entire floor to ceiling area, repeat a design where possible or create a smaller focal point.
IMAGE LIBRARIES
If you have not yet sourced artwork, or are just looking for ideas, you may find it useful to search an internet-based image library. Images can be purchased direct from these libraries. We can of course help with sourcing, and will always check suitability of image for you.
We recommend:
www.shutterstock.com
www.istockphoto.com

SAMPLES
On receipt of artwork, we provide two samples for approval; one sample is a portion of the full size image, to show print quality and colour; the second sample shows a mini version of the complete image.
Initial samples are free. Subsequent samples may be subject to extra cost.
PRODUCTION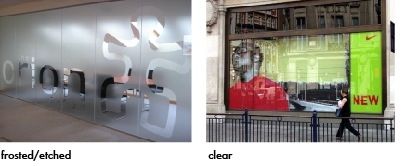 Window film base material is clear or frosted. We can print any colour, including white, and supply as follows:
in panels/sheets to maximum width 1520mm.
profile cut
Our software splits the image into panels according to the window to be decorated.
We can print full colour and white.
DELIVERY TIME
Once samples are approved, lead time for finished window graphics is usually 7 to 10 days. We will always try and accommodate tighter deadlines.
INSTALLATION
Window graphics are straightforward to install. Full hanging instructions are supplied with each order, and lengths are marked to ensure installation in the correct sequence. A minimum 10mm selvedge is included on all edges, to allow for trimming on site.
Profile cut window graphics are supplied without selvedge on application tape.
We can recommend independent, experienced installers throughout the UK and Ireland. Please contact us for details
WHAT WE PRINT ONTO
Premium Grade
Our standard print media for window graphics is 70 micron, polymeric calendered film. This offers exceptional clarity and dimensional stability (less than 0.5% shrinkage), and is suitable for all applications. (7 year exterior life). Our premium grade is available in clear or frosted, translucent or white.
Other options
We can print onto many types of film, including monomeric film, one-way, polyester and metallic. Further information on request.
For more information, see our Data Download
In addition to window film, we also digitally print onto any of our wallcoverings
PRICE GUIDE
With Tektura Digital, there are no set up costs, and no machinery costs.
Prices for window graphics do however vary - depending on the size of the project, the artwork, and base material used. In all cases, please contact us to receive accurate pricing.
If we provide pictures from image libraries on your behalf, these are priced as follows:
Shutterstock: Free of charge, for all orders 15m2 and over. £70 for orders less than 15m2, or for unused bought images.
Images from other libraries are provided at cost : Prices vary from £20 up to £1000 and over
If we alter artwork for you:
Minor alterations: Free of charge
Alterations likely to incur cost : we will give you an estimate before carrying out any work