THEMES: January 2020

Published on , in News.
Inspiration alert! We enter the new decade with 3 themes we've created to help inspire and that have influenced our own latest wallcovering designs...
But how have we come up with these groups? Well, we started by looking at the why - What are the drivers and influences surrounding us at the moment? Why are we thinking a certain way and how is this drawing us to that certain look or style?
Scroll on to see what we discovered...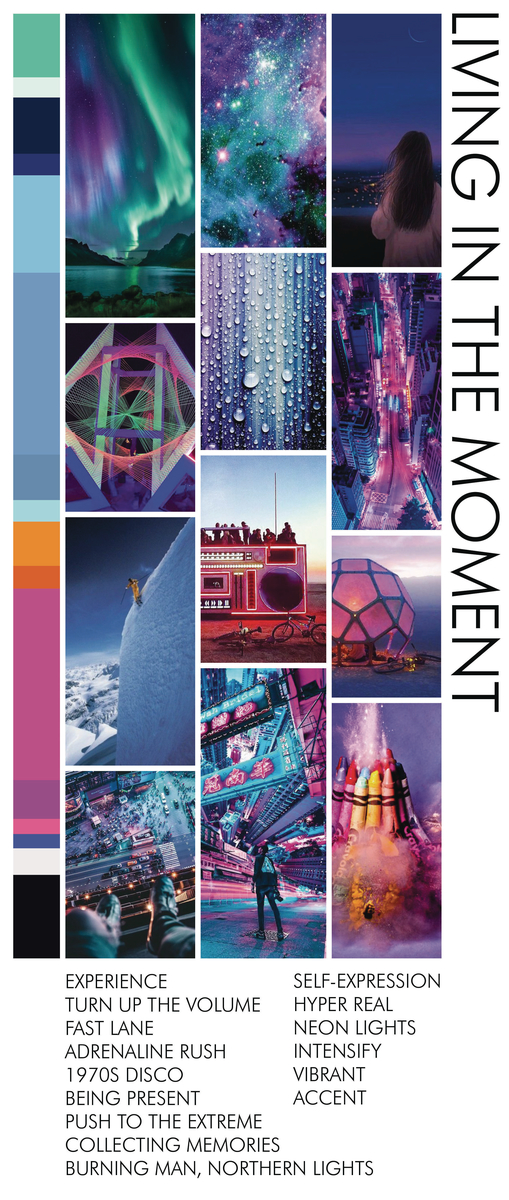 1) LIVING IN THE MOMENT
The first of our themes is all about the experience!
It's about living life to the extreme. Collecting memories and experiences rather than physical objects. It's about self-expression, participation and being in touch with your inner self.
Living in the moment is about turning up the volume, bright colours, hyperrealism. There are neon colours and fluorescent lights, hints of 70s disco and partying like there's no tomorrow. It's about living life in the fast lane, but also taking that minute of contemplation and really feeling each moment.
The intensity of these looks and colours mean we see this group as more of an accent theme – it's the extreme end of the spectrum.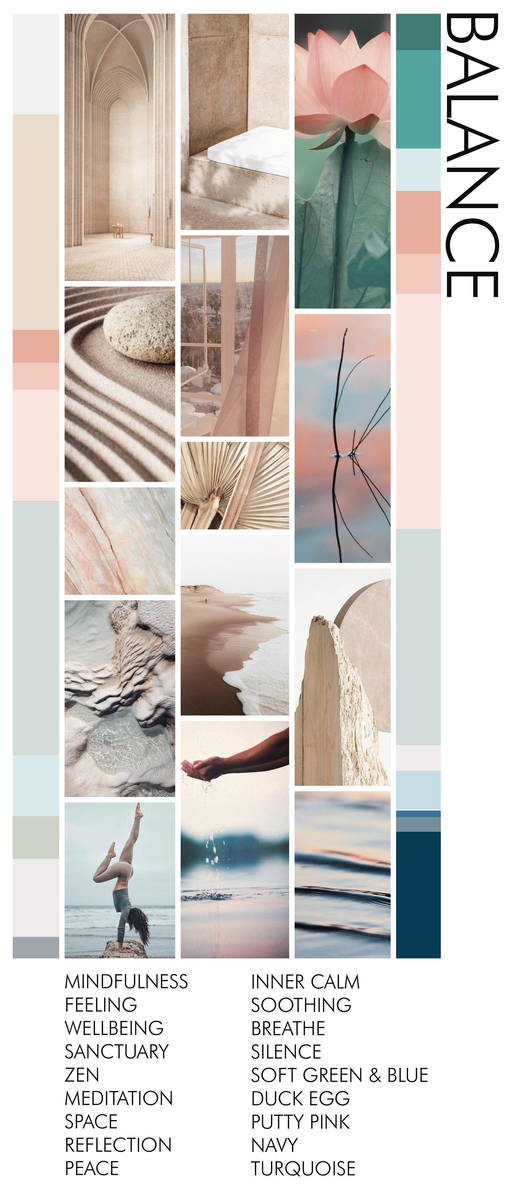 2) BALANCE
A complete contrast to the previous theme, our second theme is all about balance and mindfulness. All about self-care and wellbeing. We're moving on from more literal biophilic looks - we're seeing the influence of Japanese design and zen gardens. Hints of deep turquoises and navies are paired with soft pink and blush tones in this group.
It's about inner calm and peace, self-reflection and meditation. Finding that sanctuary and safe space to breathe and just be.
Are you feeling zen, calm and relaxed? Ready for our third theme? Scroll on...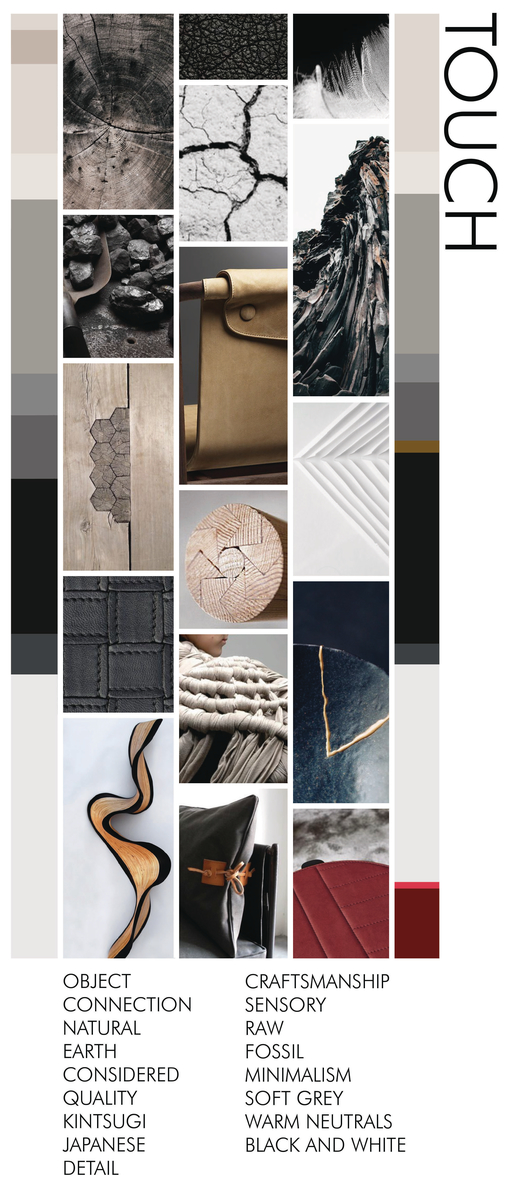 3) TOUCH
Let's connect with the natural world and objects around us. Touch is about considered design, finding beauty in the detail. It's about craftsmanship and quality. Minimalism not just for the sake of it, but to give space to each individual object to shine and be appreciated. It's about making room for meaningful objects, people and experiences - Everything you choose to have around you should bring you joy!
We start the look with raw, natural materials, textures and surfaces. Natural woods, rock, stone, wool, leather. It's a real sensory experience. We're then moving from this raw natural state, to what we make with these raw materials. How do they evolve? We're focussing on the detail in the designs – stitched leather, woven fibres, handcrafted and quality craftmanship. It's all about connecting to our surroundings through touch.
So those are our 3 themes...
Living in the moment – all about the experience, living life to the full and being present in each moment
Balance – about the feeling, mindfulness, inner peace, zen
Touch – the sensory experience. It's the connection with and having meaning in the objects that you choose to have around you. It's about quality, craftsmanship and considered design
In some ways, we think all 3 of these themes are linked. They're linked to wellness, engaging the senses and feeling connected. All of which we feel are important messages to convey in an interior and to consider when designing.
Want to see how these themes inspired our latest launches? Click here to read about the 20 new designs we've just launched...
To see all our latest designs and explore our current library follow the link here.
Join the conversation and let us know your thoughts by following us on Twitter & Instagram (@TekturaTalk) and Facebook (@TekturaWallcoverings).
For case studies, blogs and trend reports - click here.
Or click here to sign up to our newsletter to keep up to date with what's going on and our latest launches.